I feel as if I have sort of dropped the ball with the Detox, Plan, Moves, and Life Series. Starting a major project on the cusp of vacations may not have been the wisest approach. Hopefully, you have been able to garner enough "ammunition" to take strides into more healthful eating habits and patterns even while on vacation! I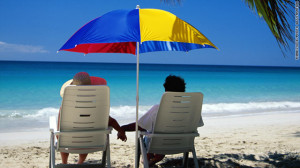 am trying to address at least two of these basic topics in each current post.
I am in the midst of planning out the scope-of-course and lesson plans for my Designed for Health Classes in New Bern, North Carolina. Classes will be held at the First Baptist Church from 6-7 pm on Wednesday evenings starting September 10th and will continue for 7 weeks. If you are interested in attending, please call the church office at 252-638-5691 to reserve both your slot and a copy of the book we will be using for the class. The class is open to anyone in the community who would like to attend. If you would like more information, please leave a comment here or email me at foodtalk4you@gmail.com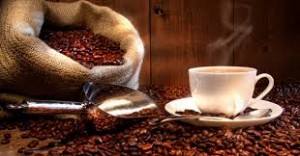 Well, my coffee brewing time is really getting busy! While waiting for the java to brew, I am working on planks, squats, and arm circles! Remember when I mentioned how much easier it is to slip a new habit into sharing a time slot already committed to something else? Well, apparently there is a name for that! According to James Clear, it's called "habit stacking." Who knew? Makes sense to me.
We've all done this when parking farther out from the store so we can get a bit more walking in. Only takes a minute longer, but the leg stretch is easily acquired without special scheduling. Then when it's time to walk out to the mail box, we jog instead…maybe we even jog around the house one time. Waiting for water to boil? Do some slow motion squats or some TTapp-inspired arm motions as described in previous posts. Stack a good habit on top of some period of time that is "already there" so-to-speak. Try it! Let me know what you do to "habit stack."
There are two approaches to being gluten-free. You can replace starchy baked goods with gluten-free versions. That's fine and good sometimes. There are days when a breakfast just needs some toast to sop up that yummy egg yolk! However, incorporating the idea of nutrient density into our meal plans usually eliminates the additional carbohydrates found in baked goods. Therefore, the second approach should include, perhaps, a vegetable or a good fat source such as some avocado. Again, I am not saying no gluten-free breads ever again, I am saying that for at least 80% of the time we should be aiming in favor of nutrient density.
Therefore, I would like to revisit Cashew Gravy; this time with pictures of my latest batch! I was grilling some burgers the other night and knew some gravy would really add some "Umami" to my meal. Umami is that extra "something" that makes this delicious, yummy, and delightful. So here's the recipe: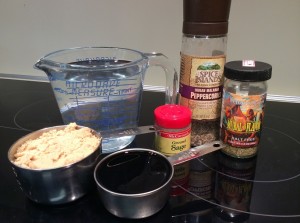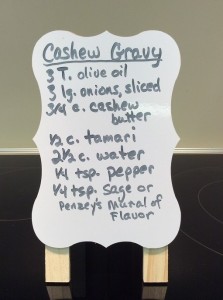 Slicing onions is no big deal, and a knife and cutting board are a snap to clean. Since I was going to use my food processor, which has four parts to clean for additional tasks, I chose to use it instead. After making the gravy, I sliced up more onion and then a bag of Brussels sprouts to prepare Sautéed Brussels Sprouts with Balsamic Vinegar to complete the meal.
So here are the onions after processing….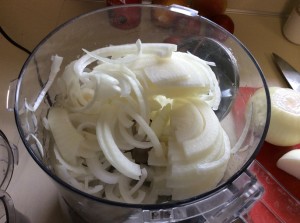 You can purchase cashew butter already made, but I usually make my own by putting them into the food processor and processing them for a looooong time. Sure enough, a paste will form. If you are making your own, it will take a bit more than a cup of nuts to make a cup of nut butter. If there is extra, don't worry. It will taste great on some gluten-free toast!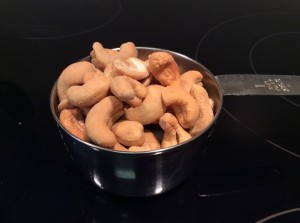 Then sauté the onions for a long time- probably 20 minutes- until they caramelize. Not much stirring is needed early on in the process, but as they become more cooked, more frequent attention is needed.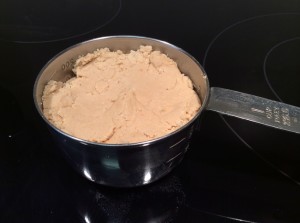 Once the onions are starting to turn golden, add the water, cashew butter, tamari (wheat free), pepper, sage, or Mural of Flavor spice.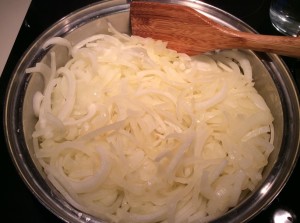 After incorporating the ingredients and allowing them to cook a few minutes, process in about three batches in the food processor or blender, blitzing until smooth. Pour the now smooth gravy into a sauce pan to finish cooking a bit.
Enjoy on just about any kind of meat. It was great on my lamb burger; is awesome on beef, and can make poultry sing! This gravy also freezes very well!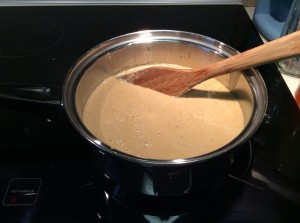 Enjoy!
Deidre