Don't despair at the thought of having to re-invent your yearly feast. You do not have to throw everything out the door either. We are talking about quality protein; check. Non-starchy vegetables; check, check, check. A small bit of stuffing that's gluten-free; check. Minimal sugar- yes, it can happen.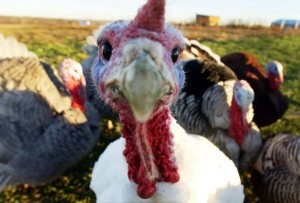 Let's look to see how our plates can look still brimming with Designed for Health goodness.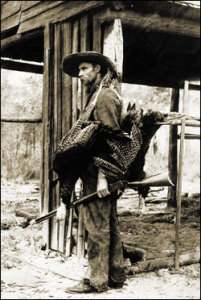 Protein: Turkey for me! There are many approaches here. If you have deep pockets, free range turkeys would be the optimal choice. If you don't have deep pockets, maybe you know a hunter who could supply you with a real prize bird! I am left with the local grocery store, so I aim for a bird that is minimally processed and minimally "enhanced" with very salty broth. Honestly, eating turkey should NOT cause us to have nearly unquenchable thirst after dinner!
If turkey is not your forte, then ham. Certainly, ham will be a big hit on salt, but if you can cut down on adding a lot of salt to the rest of the meal, go for it. Just check the labels on the ham. I have seen hams at Sam's that are labeled gluten-free. Ap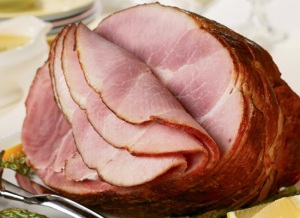 parently somewhere in the processing of hams there is gluten involved; maybe as wheat starch. So if you are especially sensitive to gluten, better read the labels carefully. If you are one to use the glaze packets that come with many hams, beware of the long list of ingredients which can contain the unpronounceable Franken-chemicals we do not need to be eating. Try stirring up some organic marmalade with a bit of Dijon mustard for a healthier glaze.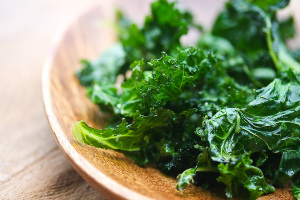 Non-starchy vegetables are a cinch at Thanksgiving! Collards; Mmmmmm! Asparagus. Carrots. Kale. Spinach. Green beans. The list goes on. The problem, if there is to be one, is what we add to these wholesome foods that renders them unfriendly to our happy, non-inflamed, functioning belly. Adding a can of condensed soup is going to add, not only gluten, but also a long list of unfamiliar ingredients, and an excess of salt. Try just cooking with good fats (olive oil, coconut oil, avocado oil) and season with herbs.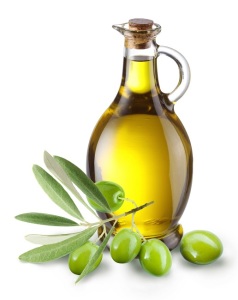 Many clean-eating, SANE-eating, Paleo-eating folks really enjoy their sweet potatoes and yams. Bravo to you all; wish I could join you but those healthy tubers just are not in love with my belly. Again, enjoy your tubers, but pouring on brown sugar and marshmallows is a recipe for skyrocketing blood sugars! Be careful. Roasting a pan full of all kinds of root vegetables, tubers, broccoli, onions, and garlic that all have been coated in olive oil and seasoned with herbs is a feast in itself and will not destroy inner balance- even for one day!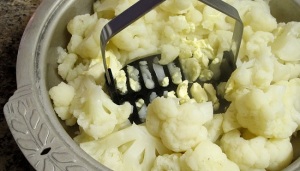 Okay. Mashed potatoes….. Many people have switched out mashed potatoes with mashed cauliflower! I have done that, but I have not been happy with the leftovers. Since there are only two in our house and one of those two declines cauliflower in any form, then it's sort of hard to fix just a small amount. For me, there will probably be a very modest portion of garlic mashed spuds.
Turkey gravy is great! I hope you are using all of the giblets finely minced in your gravy! Organ meats are infinitely good for us to eat. I save the liver for a pate to help tide us over until dinner is ready; great on gluten-free crackers. Thickening the gravy can easily be done not with flour or corn starch, but with arrowroot flour. Just stir the arrowroot into a half cup of water and stir into the gravy pot as you would have done with cornstarch. Just another way to love your belly!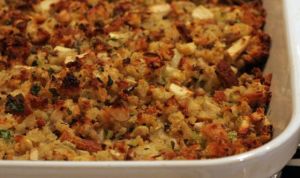 Stuffing or dressing? Which do you say? I think I switch back and forth! Anyway, since going gluten-free, I have relied on Bob's Gluten-free Cornbread Mix as a basis for the dressing, augmented by a few slices of gluten-free bread. Sauté a bunch of onion and celery in "happy" butter (Kerrygold brand) with a generous addition of poultry seasoning. Maybe add some chicken broth. Stir in dried and chopped up cornbread and sliced bread, maybe some nuts and dried cranberries, bake, and voila- stuffing! Pass the gravy!
Cranberry sauce is a family favorite, not only as a tasty additive to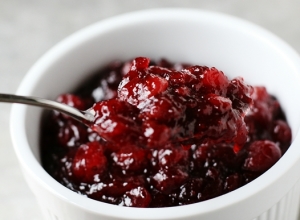 our meats, but especially because of the tradition that goes with its preparation. Cleaning and sorting cranberries was my first job in the kitchen as a young child. Such pride and joy in actually helping cook! So much fun to play with the bright red berries floating in the rinse bowl of water! It's a tradition lovingly passed down to both our children and our grandchildren. We will have to wait until Christmas time to once again to watch our grandchildren being tutored by our daughter, their auntie, in the fine art of cleaning, sorting, seasoning, adding other fruits, and stirring the mystic pot-full of glorious red!We have come to learn that just a half-cup of sugar is enough for one bag of berries when you add the flesh of a sweet orange, a minced Gala or Fugi apple, and a minced pear. I have also added some raspberries for a subtle added flavor. With fresh clove, nutmeg, and cinnamon, it is a family favorite.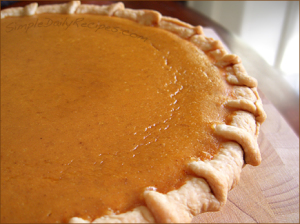 Pumpkin pie, anyone? Oh, yes! Where we will be eating this year, I'll just not eat the crust because of the gluten, but sometime soon, I'll be preparing a pie of our own using a gluten-free crust. I have used the mix by Glutino which gives a good result, but do not expect to roll it out as with standard pie dough. It's better to just press the dough into the dish; I have never succeeded rolling out that dough and have always ended up pressing it into the pie pan. There are certainly many gluten-free recipes out there for pie crust; I just haven't personally settled on one as a favorite. Pie crusts merit a separate blog on another day. If you are really benefiting from going absolutely gluten-free and fixing any kind of crust is too much bother then there is really no hard and fast rule that there has to be pie crust at all! Grease a dish with coconut oil, fill with pie filling, and bake!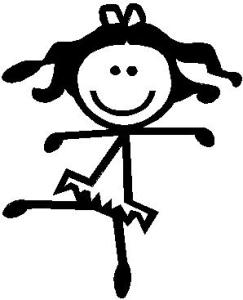 Best wishes to one and all for a truly heart-felt day of thanks– hopefully with the loving companionship of friends and family. It's a time of sharing our plenty and giving our thanks. I am so grateful to my co-creator, Sheree Alderman, who fleshes out my ramblings with creative titles and extra pictures when needed. Many thanks to my Designed for Health class participants for their enthusiasm and encouragement; keep up the good work and thanks for sharing your progress with me!
In the coming months, my goal is to give my subscribers a free download ebooklette! It's still under wraps, but is definitely coming your way! Please share this site with your friends so we can journey together toward the health we were designed to have. As always, your personal information is never shared when you subscribe; you will just get an email notice and link when a new post is made.
Happy Thanksgiving to one and all!
Deidre