Poor Santa! So much sugar! But the poor fellow LOVES cookies! Is there an answer? Yes!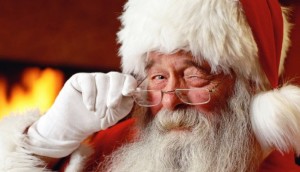 No need for the Old Elf to be totally deprived of his seasonal favorites! Step into my Christmas kitchen for a quick recipe share of two satisfying confections that do not deliver a huge sugar/carb hit. These macaroon and oatmeal recipes will more than fill the bill for treats that do not overdo things and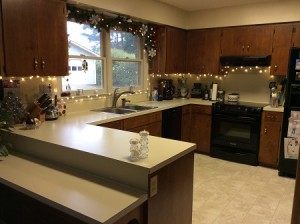 will keep you in balance.
Midnight Macaroons were developed to be part of a regular care package sent to our daughter for a moment of hugs-across-the-miles during her grueling night shifts as a Resident Physician. She shared them with her fellow residents during their – rare – breaks.
Midnight Macaroons
Preheat oven to 350 degrees or convection oven to 325 de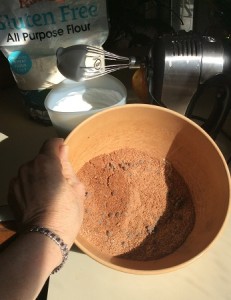 grees
Cover baking sheet with parchment paper
Combine dry ingredients in a large bowl:
• 1 1/3 cup unsweetened, finely shredded coconut
• 3 tablespoons gluten-free flour (I used Krusteaz Brand)
• 1/8 teaspoon sea salt
• ¼ cup cocoa
• 2 tablespoons mini dark chocolate chips (I used Ghirardelli Brand)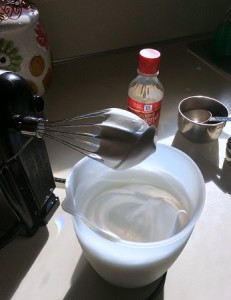 Beat/whip 3 large room temperature egg whites until they become fluffy.
Then gradually add 1/3 cup white sugar while beating.
Add ¼ teaspoon almond extract and continue beating until stiff peaks form.
Spoon whipped egg white mixture into the dry ingredient bowl and gently fold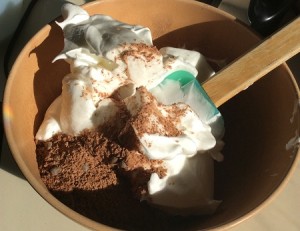 ingredients until combined.
Using a cookie scoop – I used a 2 inch scoop – place dough onto prepared baking sheet. These will not spread out.
Bake 25 minutes and cool on a rack. Smaller cookies will need less time to bake.
For an optional added chocolate "hit" you can easily dip the tops of these into melted dark chocolate.
These are not especially sweet (YAY!) and are totally satisfying and provide LOTS of nutritional goodness through the egg whites, coconut flakes, and dark ch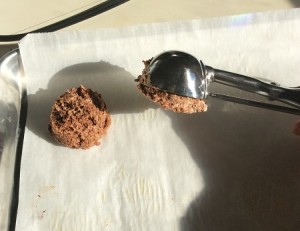 ocolate.
I stress in Toolkit for Wellness – barring severe allergic reactions – an 80/20 approach to anti-inflammatory eating should meet our needs to be mindful of how we 'fuel' our bodies without making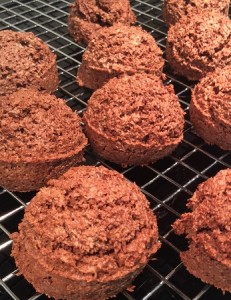 us obsessive. I choose to stray from the path of "no grains" once in a while as a serving of white rice is savored or a gluten-free corn chip is enjoyed at a party. But, oatmeal labeled "gluten-free" has been calling me like sirens from the deep.
I bought a bag of Bob's Red Mill Brand Gluten-Free Rolled Oatmeal last year and ended up just giving it away to a friend. I didn't trust myself to not go down a very slippery slope into regular bowlfuls of carbohydrates in the morning. Well, I took the plunge this year and used some of that oatmeal to create a fabulous treat. So far, so good. One cookie every other day or so! Who is in control at all times? Me! I can do this!
Traditional oatmeal cookies call for a total of 1 cup sugar (brown and white), but I eliminated one third cup of that and did not lose a bit of flavor or fun. I think this could even be made with less sugar than that and be just fine.
Low Sugar, Gluten-Free Oatmeal, Raisin, Walnut Cookies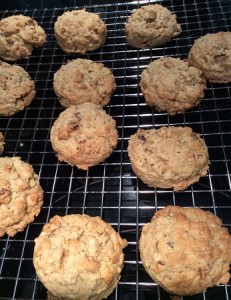 Preheat oven to 350; or 325 degrees for a convection oven. Cover baking sheet with parchment paper.
Combine in a medium-sized bowl:
• ½ teaspoon gluten-free baking soda
• ½ teaspoon gluten-free baking powder
• ½ teaspoon sea salt
• 1 teaspoon xanthan gum
• 1 cup gluten-free flour
Cream in a large bowl:
• ½ cup grass-fed butter
• 1/3 cup brown sugar
• 1/3 cup white sugar
Mix into the butter mixture:
• 1 egg
• 1 teaspoon vanilla
• 2 teaspoons water
Add dry ingredients to the wet and mix until combined.
Stir in:
• 1 ½ cups gluten-free rolled oats
• ¾ cup activated nuts, chopped (See Recipe chapter in Toolkit for Wellness)
• ½ cup golden raisins
Using a cookie scoop, put scoops of dough onto prepare baking sheet.
Bake 10-12 minutes for 2" cookie scoops. Smaller scoops will require less time.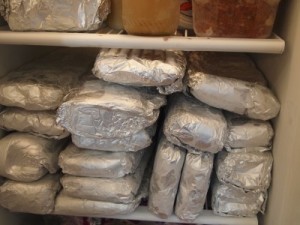 My only improvement on these delicious recipes is that I will use a smaller scoop next time so I can have more cookies and smaller servings.  A move to smaller treats will keep these cookies closer to the 80 side of the equation! These both freeze well, by the way; so the treat can last longer if you are not sharing them.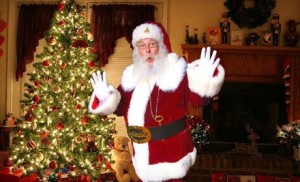 So, now we see Santa settling by the hearth with his NEW, favorite book to learn of other amazing 'tweaks' he can make in his daily life that will revolutionize his health and peace of mind!
Merry Christmas and Happy New Year to one and all!
Deidre
PS- Thank you for making Toolkit for Wellness a Best Seller in ALL of its categories at one time or another!
Remember! The eBook is still at $0.99 until Christmas when the price goes up. If you prefer reading on a devise, that's a great bargain for yourself or someone you care about.
But wait, there's more! The paperback version is ready and also available through Amazon! Click HERE to get yours today!