I used to call it the "creeping crud." You know, the variants as sinusitis,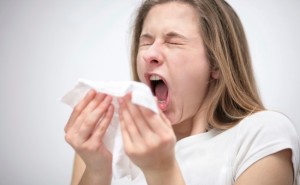 bronchitis, laryngitis, coughing, sore throat and the like? Those of us who sing, teach, coach, or otherwise strain our vocal cords on a regular basis, need some relief and prevention.
Enter – Ginger tea!
A fellow singer keyed me into this years ago as a preventative, as well as a therapy. I'd see her going from one rehearsal to another, always clutching her ginger tea. After picking up her habit, I can vouch for the effectiveness of ginger tea; both, as a preventer of illness, and as an aide to healing when the "creeping crud" arrives despite every effort.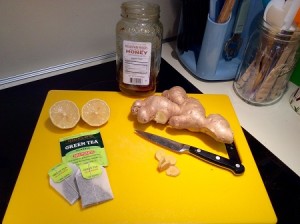 The recipe is simple enough:
Green tea
Fresh ginger
Fresh lemon juice
Honey
For two cups of tea, I boiled water, added about an inch of fresh ginger peeled and sliced, juice from ½ lemon, a teaspoon of local honey, and three green tea bags.
Let's take a look at the healing and health-promoting properties of each ingredient:
Green tea: loaded with antioxidants with many medicinal properties,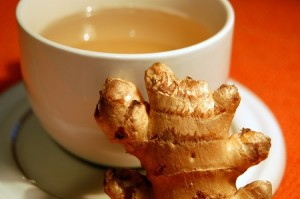 has properties that improve brain function, increases metabolism and increases fat burning, properties in tea called catechins, can positively impact oral hygiene and reduce infection risks, may help the body process blood sugar, has been shown to be heart healthy, and can decrease the risk of cancer.
Ginger: ancient Chinese source for digestive issues such as nausea, loss of appetite, motion sickness, morning sickness, and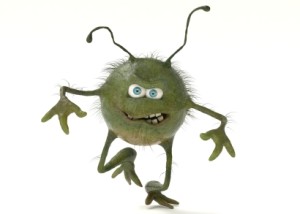 chemotherapy-induced nausea. Its pain-reducing capabilities can help with pain and inflammation seen with arthritis, headaches, and menstrual cramps. It has been shown to inhibit the virus that causes colds.
Lemon: antiseptic properties, vitamin C, calcium, potassium, and pectin fiber. Functions as an anti-inflammatory. The list goes on.
Honey: anti-bacterial and anti-inflammatory properties among others.
Now you can see why drinking this is like putting the power of Superman into a cup. Antioxidants, anti-inflammatory agents, and antiseptic properties in every sip!
Wow!
Daily green teas:
Some people brew a super-strong cup of tea using 8 bags of Bigelow Green Tea. It's their morning "shot" of goodness. I have found Bigelow brand to be the most authentic tasting tea in tea bags.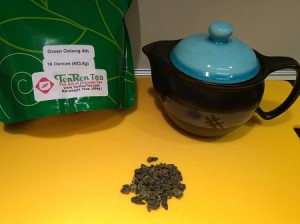 I have also discovered the joys of loose leaf green tea available on-line from Ten Ren Tea. The Oolong variety has a wonderful aroma and taste. A bag of loose leaf Oolong is expensive, but it lasts a long time. A little bit less than 1 tablespoon of tea leaves yields two of these small pots full of fragrant green tea which will fill my mug twice. Just enough to start the day off right, and my beverage of choice on Sunday morning before singing in choir or before going to special morning choir practices.
A couple cups of Ginger Te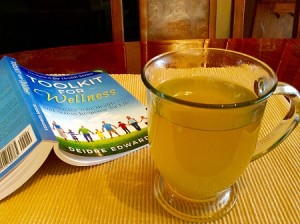 a or regular green tea will soothe the mind, tummy, and go a long way to boosting our wellness!
Enjoy a cup while you go through your Affirmations!
In health-
Deidre