Welcome to the first Foodtalk4you Book Fair!
Since becoming an author, I have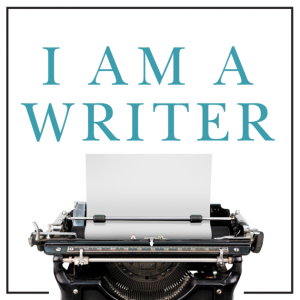 been blessed to discover a vast array of new releases that cover a broad range of topics about health, life, self-improvement, and even business. My reading list is growing each week, and contains books that I want to share with my readers.
So, the idea of a monthly Book Fair just came to me. If you like this, plans are set to do a weekly Book Fair during July so you will have extra titles to peruse while on vacation at the beach or in the mountains!
______________________________________________________________________________
My Story of Survival, by Mimi Emmanuel, is an inspiring story that takes my message of anti-inflammatory eating another step. Read my review:
5.0 out of 5 stars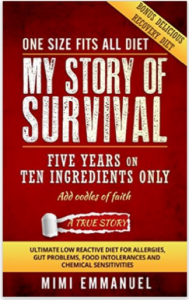 This is a God-send read for those with mysterious food intolerance.
By Deidre J. Edwards on December 6, 2015
Format: Kindle Edition Verified Purchase
At the end of your digestive rope? Hang on, you are not alone and I have a friend who can help! This is an honest-to-goodness real story of one woman's grit and self-determination when faced with an overwhelming medical conundrum as to why her body was on revolt.
You can't be the master of a sinking ship without becoming a master builder – becoming a student on how to patch and rebuild. Mimi Emmanuel learned how to craft her own survival diet out of just a very few ingredients. While she hopes that none of her readers would ever have to follow her diet, she shares this journey to show that there are answers to be found. There are times when the standard elimination diet is far too broad for those suffering from a fried immune and digestive system.
She shares the Spartan but nourishing diet she had to follow for FIVE years as well as how she has tippy-toed into a more varied Phase 2. I especially like her "useful facts" she places throughout the book to not only make her case as to nutritional needs, but also spark a deeper interest for further study and personal application. I will most definitely recommend this book to those I teach about diet and nutrition.
Now let's hear from Mimi herself:
"Why did I write this book? I wrote this book because I know that many people suffer because of all kinds of health problems and often these problems are diet related. Obviously, not always. But I wrote this book for those people who suffer from health problems due to diet related issues. My diet may be suitable for anyone who suffers from gut problems, food allergies, food intolerance and chemical sensitivities.
In addition, many conditions such as chronic fatigue, fibromyalgia, Lupus, Lyme, diverticulitis, and various other health problems and even menopausal symptoms are relieved when all allergens are taken out of the diet or minimized as much as possible.
I hope that my low reactive diet will give my readers the inspiration, in collaboration with their health professionals, to come up with their own variation suited to their situation."
Here's the link to Mimi's book. CLICK
___________________________________________________________________________
5.0 out of 5 stars I'm ready to put my spare room up for rent!
Our daughter has happily used Airbnb accommodations for years, so I was interested in the behind-the-scenes story on how someone becomes an Airbnb host.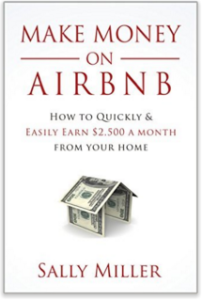 Read my review here:
I'm ready to put my spare room up for rent!
By Deidre J. Edwards on November 3, 2015
Format: Kindle Edition Verified Purchase
Sally takes the reader on the journey she and her husband took–all of the thinking, emotions, planning, and how to avoid any pitfalls in this delightful, easy-to-read guide to all things Airbnb!
So many people are downsized out of a job, or long for a form of self-employment that will actually PAY for something. You can succeed with your dream of adding extra income to the family coffers with this guide by your side! She has already done all of the leg work and research for the reader–she has done all of the heavy lifting–all the reader has to do is follow her lead and profit!
From an exploration of different motivators for Airbnb hosts, to an understanding who the ideal client would be for your location, this guide leaves nothing out from the process. There's how to communicate with clients, how to prepare the home/room, safety tips, legal issues, problem solving tips, and worthy resources for further study. Rest assured, by reading this book, you will be well-prepared on all aspects of launching your own Airbnb career with your eyes wide open!
Here's what Sally has to say:
After my daughter was born, I left Corporate America to be a stay-at-home mom. We took a drop in family income. We no longer had a cushion to pay for the "luxuries." Things like a family vacation, a new car, or home improvements. Saving for retirement was completely off our radar. I also missed the freedom and success that came from earning an income of my own. Yet, I knew I wanted to be a full-time mom to my kids. So I made a decision: I'd be a stay-at-home mom and earn a side income.
Since then, I've started a local business, built affiliate websites, created an online course, conducted user testing, sold used items, offered freelance services, and more. All in my "spare" time. Some of these things worked out… and some didn't. In my book, Make Money On Airbnb, I share one of my most successful ventures. I teach you exactly how we earn $2,500 a month renting out our home on Airbnb.
Here is the link to Sally's book. CLICK
______________________________________________________________________________
I am sharing another medically-related book with you because so many are searching for answers outside of a doctor's office. Irene's book underscores and amplifies everything I have written.
Read my review:
How to be your own patient advocate!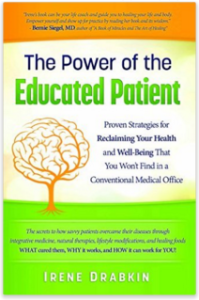 By Deidre J. Edwards on November 12, 2015
Format: Kindle Edition Verified Purchase
No one should EVER go into a doctor's office without some kind of education about health; and especially, how different diseases can be treated by alternative methods. If getting educated about self-care is something new for you, Irene's book is a great start!
From my own experience with a daughter who was an undiagnosed celiac for a decade, I knew immediately from reading about the author's daughter what the problem was. Anytime you can learn something new about non-celiac gluten sensitivity, it's a great thing; and I encourage potential readers to learn from this easy-to-read resource!
Irene follows many different patients as they bounce around the medical system looking for answers when the answers were in plain sight. Just look at the table of contents which covers most of today's prevalent conditions and buy this book immediately! Really, I just kept nodding my head in agreement as I read case-after-case; and how in each one, a treatment was found – often from outside of the mainstream medical community – and patients' lives were changed for the better.
If you are dealing with any of the diseases mentioned in this book, please read! As a retired RN, I have seen similar things many times. We as patients MUST come to the doctor's office with a knowledge base, and you can get that here!
Irene shares her thoughts:
This information-packed reference book offers the wisdom, strategies, and stories of over 20 health experts who started their professional paths after overcoming their own health challenges. Unable to find solutions within the conventional medical system, my storytellers embarked on their own health journeys and discovered alternative healing strategies that allowed them to heal. These people share their proven tactics and fundamental principles that guided them to recovery, they empower us by illuminating the path they took, so we can apply what they learned to our own health and well-being.
This book is designed to educate and empower the reader as a patient.
As an empowered patient we become our own best health advocates!
As our own health advocates – we determine and choose what works best for us from both alternative and conventional medicine, and propel our road to recovery, vibrant health and joyful life!
The book has been endorsed by such gurus in the health and wellness world, as Bernie Siegel (a great surgeon, and NY bestselling author recognized as one of the Top 20 Spiritually Influential Living People on the Planet), Jamie Reno (author, award-winning investigative reporter, global patient advocate, and three-time cancer survivor), Burton Goldberg (publisher, producer, and author of 18 books on alternative health), Kenneth R. Blanchard (an exceptional MD and author), and a number of other outstanding authors and health practitioners.
Here's the link to Irene's book. CLICK
________________________________________________________________________
I love children's books that have built in value and life lessons!
Read my review for Sheree Alderman's book: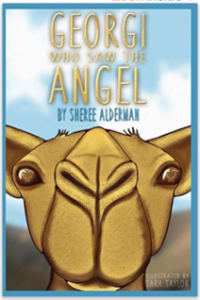 Christmas Classic in the making that can be read all year long.
By Deidre J. Edwards on February 28, 2015
Format: Kindle Edition Verified Purchase
Her first book is a new Christmas Classic to be enjoyed all year round! This mindful tale of Georgi, a camel, helps children identify with growing up, lasting friendships, and finding one's calling. Families should read this aloud every Christmas, right next to, Twas the Night Before Christmas! Discovering one's destiny, having faith to step forward, and the sweet reward of having done a job well, are but a few of the life lessons Alderman helps children discover. Well written, great story line, and easy to read, with a rich vocabulary to stretch young minds.
Let's hear from Sheree:
Georgi Who Saw the Angel is not just a holiday story… It is a rainy day… snowy day… grandparent's day… mom and dad day…stay in bed day…any kind of day… journey where you will meet the most unloved, unwanted, and unimportant little camel named Georgi, and see how he becomes the priceless servant of a very high-ranking king. Georgi is blessed by God to lead the smallest parade of believers to the biggest event in human history.
Here is the link to Sheree's book. CLICK
Hope you have found our first Foodtalk4you Book Fair to be interesting and that you have found some titles you would like to read or pass along to a friend.
Definitely food for thought and food for action!
-Deidre