We've all seen the headlines, "Local man loses 22 pounds in three weeks by not eating one kind of thing!"  My chiropractor was almost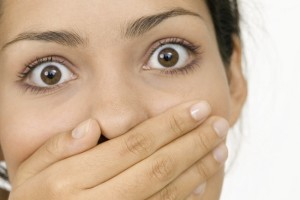 giddy as she shared the news with me that one of her patients had lost 22 pounds in just three weeks by following her advice – and mine, too, by the way – by not eating just one kind of food. He wasn't that interested in losing weight, he just wanted to feel better. Weight loss was just an added bonus. Do you want to "just feel better"?
When my readers do this, they notice improvements in how they feel within the first week. The added bonus? My chiropractor thinks that, in no way, was that fat loss. What was lost was inflammation.
Pus, perhaps? Ewwwww!
Certainly fluid. Inflammation goes hand-in-hand with fluid rushing to the site of the "i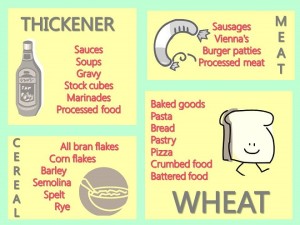 njury." What if that injury is body-wide? No wonder joints are swollen, hurt, and have limited range of motion.
So what did this man and my readers try? They cut out gluten.
I'll never forget one of my Designed for Health students who pulled me aside to show how she was able to once again put on her rings. She didn't have to tell me she had lost weight, her slender face and trimmer figure spoke for itself. Her painful, swollen joints were gone. Her Multiple Sclerosis symptoms were far diminished. Life was good!
She felt better!
She cut out gluten.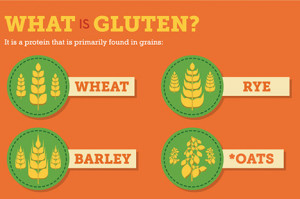 The following excerpts from my book, Toolkit for Wellness, should help you understand the mechanics behind going gluten-free and why the benefits can be so far-reaching for you. These excerpts are regarding gluten only; the lectin and phytates parts have been omitted to save space.
Glutens, and Lectins, and Phytates, Oh My!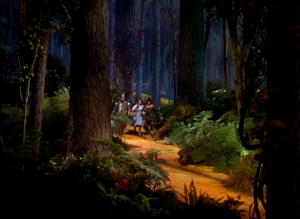 To quote Judy Garland from The Wizard of Oz, "I don't like this forest—it's dark and creepy!" "Do you suppose we might meet any wild animals?" To which the Tin Man replies, "Mostly lions and tigers and bears!"
"Lion, and tigers, and bears, oh my!"
When you delve into the forest of so-called whole grain goodness, it's a clear case of: "Glutens, and lectins, and phytates, oh my!"
While Judy and the gang became fast friends with the bashful lion, we are in no way friends with glutens, lectins, and phytates. Why? What are they anyway? '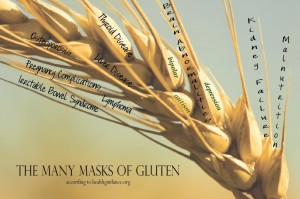 Well, going back to a better understanding how things work, let's look at the nature of what we eat.
All living things work very hard to protect their own life. Animals run, jump, fly away, and if caught, claw, squirt toxins, sting, and bite to stay alive.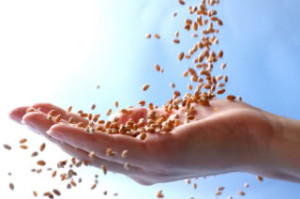 What's a plant going to do? Clearly not jump out of the ground and run!  Plants protect their precious seeds with coverings that are hard to penetrate, like nuts and their shells. Some fruits have noxious skin such as mangoes. Grains protect their seeds with toxic anti-nutrients: glutens, lectins, and phytates.
…
Briefly, gluten is a protein found in wheat, barley, and rye grains. Gluten, the lectins, and phytates found in other grains, can affect a couple factors in the integrity of the structure and proper functioning of the lining of the small intestine.
Remember Dr. O'Bryan's analogy of the fuzzy, shag carpet structure of the small intestine lining? The shag carpet structu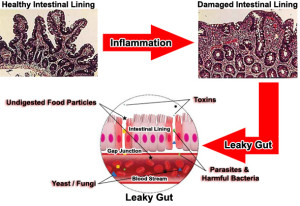 res need to be maintained for proper absorption of nutrients. They can become damaged, bent, crushed even, which renders them useless in nutrient absorption. To keep his carpet analogy going, in the presence of glutens, we now have Berber carpet.
If that's not disastrous enough, the integrity of the junctions holding the individual cells of the small intestine lining together is compromised and the intestine becomes "leaky"—also known as intestinal permeability. This is where systemic inflammation and autoimmune issues start.
Inflammatory processes are good if we have cut our finger. Temporary inflammation helps wit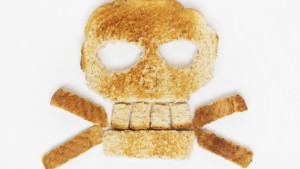 h healing the cut; but body-wide, chronic inflammation leads to auto-immune issues and disease.
All humans produce a protein called zonulin when gluten is consumed. People with Celiac Disease produce way too much. The excess zonulin causes the junctions between the cells lining the small intestine to open up, allowing toxins, and clumps of gluten molecules to get through which are then absorbed into the blood stream.
Imagine molecules of protein escaping from being absorbed for use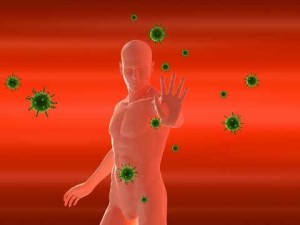 and instead, are floating around and being seen as foreign invaders. Our bodies will naturally mount an immune response which is what starts the inflammatory process I have outlined previously. Where ever this immune response happens is where trouble happens, pick an organ, any organ; pick a body system, any body system.
Researchers are saying more and more, the bedrock of most all disease is auto-immune in nature. The gluten found in wheat, barley, and rye (and the lectins and phytates in other grains and nuts) are what serve as a launching pad for auto-immune and inflammatory diseases. This is why the signs and symptoms of any level of gluten sensitivity are so broad.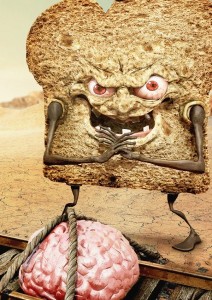 To summarize an article of Dr. Tom O'Bryan's, "The Gut-Disease Connection," from May 8, 2014, the first step in the development of autoimmune disease is leaky gut. In the event we can reverse the leaky gut, the possibility of shutting off the autoimmune response becomes real.
Is that dark, creepy forest of whole gain goodness looking even creepier yet? Can you connect these dots to the ills we see all around us?
Why are we becoming a nation of people who are obese, diabetic, weak boned, anemic, tired, and head-achy, with ADHD in our children, and victim to mounting auto-immune diseases and Alzheimer's? Has our DNA broken down?
Science is getting smarter but we are getting sicker! What's wrong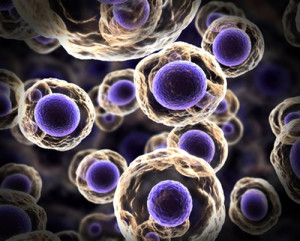 with this picture?
1% of us are allergic to gluten in a drastic way and symptoms of Celiac Disease, as it is called, can manifest fairly early in life. There are Celiacs who have no digestive issues; and there are non-Celiacs who are gluten intolerant with plenty of digestive issues. I have read recent articles stating there are some people on the gluten sensitivity spectrum who are only reactive to wheat. But sometimes it can take decades before the relenting damage reaches the threshold of causing life-altering disability. In fact, I want to share Bob's story with you right now so you can appreciate what gluten overload, good stress, and bad stress can do to an adult body.
Bob's Story:
After coming to America at age 17 from Asia, Bob enjoyed a totally American life, immersed in its culture, including the Standard American Diet. Fast forward to Bob at age 70, as he and his wife enjoy a summer trip to Germany and Austria. The good stress of a vacation in Europe is easily off-set by enjoying the cuisine-du-jour, which certainly includes fabulous German and Austrian pastries, breads, and bakery goodies three times a day. Ah! Very exciting times! Maybe not enough sleep, but plenty of pictures and good memories.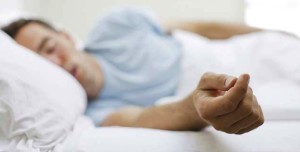 Before they returned home that same month, Bob was experiencing symptoms of a cold, some diarrhea (traveler's diarrhea?), and decreased appetite. Had Bob picked up some kind of virus? Okay, many travelers pick something up, nothing serious. By July, they were home; but Bob became very, very sick with nausea, vomiting, and diarrhea every day. Needless to say this trim man of 125 pounds was rapidly losing weight. The doctors ordered a host of tests, especially for cancer; but they all came back clear. One doctor called this "mysterious" and wondered if he had, indeed, picked up something exotic in Europe.
Add to this mix the stress of moving to another state to be closer to family, leaving behind fabulous friends and a strong church community. Needless to say, Bob got worse. By March the following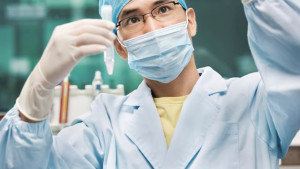 year, Bob and his doctors were convinced he was going to die. He was down to 79 pounds. In a last ditch effort, his test results were forwarded to Massachusetts' General Hospital for further analysis.
Finally an answer was coming!
Bob had become so allergic to gluten, he was "one notch away" from being a person with full blown Celiac Disease. He had become gluten intolerant. It took eight months to finally get a diagnosis. Eight months of suffering.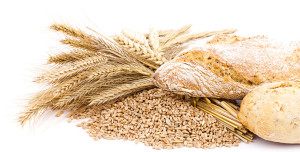 Four months later, still on a gluten-free diet, Bob is now back up to 112 pounds and feeling better each day. It took a couple weeks for him to see any changes for the better, but improvements are happening all along as his body heals.
None of us are immune to the onslaught of forces that create some degree of gluten sensitivity.
Nearly 30% of us are non-Celiac, but test positive for antibodies that indicate the body is at war with itself in some way or the other when gluten is ingested.
In all of my readings, I have never heard of a single person who has not felt better after they stopped eating all forms of gluten. They felt better, they often lost weight, their brains were clearer thinking, their aches and pains lessened, their arthritis improved, their energy levels improved, and their bellies were happy. Truly the list goes on and on.
But your grandma lived to be 102 and she ate bread all of the time? Well, Grandma's wheat was not the wheat we are eating today. The dwarf wheat grown now is especially high in gluten.
…
What is one to do? Give gluten-free a real try for 30-60 days; and if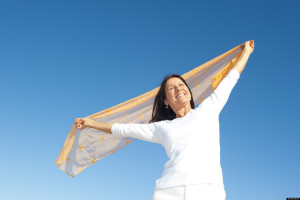 your symptoms improve, great! If you improve somewhat, but still have some level of dis-ease, then expand your eliminations to include all grains (rice, corn, oats, etc.). Once you are normalized, try reintroducing non-wheat grains, one at a time, and note your body's response. Everyone is unique. Maybe you can eat a bowl of oatmeal or a serving of rice.
Take Away Thoughts:
• Aside from adding to a starchy carbohydrate-laden diet, which causes great swings in blood sugar levels and promotes fat storage, grain consumption presents other problems that contribute to destruction of the small intestine lining and can lead to systemic and chronic inflammation.
Take Away Actions:
• Give healing a chance! For just thirty days, eliminate all gluten and just see how improved you feel. I predict you will start feeling better after just 7 days.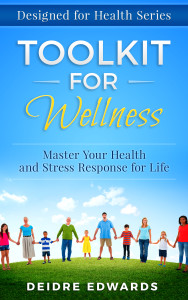 There you have the low-down on gluten. All of the recipes featured on this website and in my book are gluten-free and non-inflammatory.
Put the bounce back into your step by going gluten-free.
Click on the link here to check out Toolkit for Wellness!
In health-
Deidre