What do I mean? Isn't fruit full of goodness all by itself? You bet! I am not even going to try to enumerate all of the nutrient rich benefits there are in different berries, apples, and such, lest I leave something out!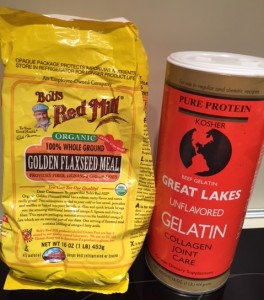 But what if we could stir something up that expanded on the nutrient-richness of fruit? How about a truckload of omega 3 fatty acids? How about some collagen joint care? How about protein? Well, I've done it! All without added sugar of any kind if you don't want; and if you do, a small dab of honey.
This warm fruit compote will delight your senses, build strong bones, provide satisfying protein, and increase your omega 3 fatty acid intake. Wow! Let's get to it!
Warm Fruit Compote
Ingredients:
1-3 Tbs. coconut oil depending upon amount of fruit. I used 3 Tbs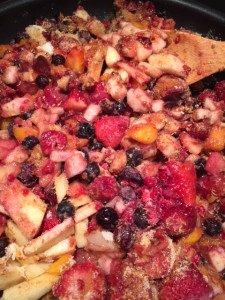 . for this quantity pictured
1 gala apple, peeled, cored, and chopped into fairly small pieces
1 Bartlett pear, peeled, cored, and chopped into fairly small pieces
Assortment of frozen berries- today I used probably over 2 cups plus
a few slices of frozen peach
Pinch of salt
Cinnamon to taste- a "sweet spice" that can enhance fruit without the need for sugar. Cinnamon also helps control blood sugar levels
Powdered grass-fed gelatin
Ground flax seed
Optional- only if your fruit is sour- a spoonful of honey stirred in at the end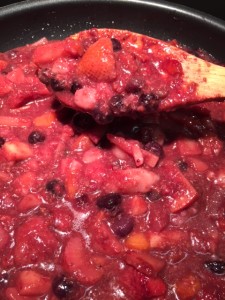 Method:
Melt the coconut oil in an enamel non-stick sauté pan and add all of the prepared fruit over medium heat. Generously sprinkle the cinnamon, gelatin, and ground flax seed over the top of the fruit. Add a pinch of salt.
As the mixture warms and begins to get juicy, gently stir.
Both the gelatin and the flax will thicken this mixture as the fruit releases its bounteous moisture. If your fruit compote is too runny, just sprinkle on more gelatin and/or more flax. Lower heat a bit to continue cooking without bubbling.
This refrigerates well and can be eaten warm, cold, or at room temperature. This is my go-to evening snack. So satisfying,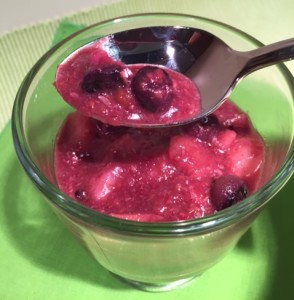 filling, good for you and not sugary!
Hope you enjoy this fruit…with benefits!
Deidre
Disclaimer: The information being discussed in these blogs is NOT intended to replace a relationship with a qualified health care professional. Foodtalk4you blogs endeavor to empower people through the exploration of publicly available resources of information about human anatomy and physiology, and how different foods affect the human body. Readers should seek the advice of their qualified health care providers with any questions about their medical conditions or health status before attempting any dietary, exercise, or lifestyle changes.