You know what a keystone is, right? It's the V-shaped stone placed at the top of an arch. It holds the whole thing together. Remove the keystone and the arch, along with everything above it, it will collapse.  There are keystone habits we can do each day that will set us up for a great day of feeling balanced and ready to meet the tasks ahead of us and will keep our "engines" running for a smooth ride.

In our first session of a seven-week series of classes called "Designed for Health," held at First Baptist Church in New Bern, North Carolina, we touched upon the mechanics of habits and how we might nudge those habits in a way that would still give us the desired reward (which is emotional), but would yield improved results in terms of body chemistry outcomes (as in increased nutritional value).
Dr. Tom O'Bryan states that there are three important things we must do for great, balanced health:
1) Drink 2 glasses of water each morning,
2) Eat an anti-inflammatory diet, and
3) Basically, don't sweat the small stuff; enjoy the moment.
Understanding how habits work is critical to modifying them. First, there is a "trigger": something that initiates the habit. A trigger could be a thought, emotion or circumstance, just about anything that leads us to the actual thing we do which is the "action." With the action comes the "reward" for having done the action. Rewards are usually mental/emotional. We like the results. Understanding the results we want is key to modifying habits in order to maximize positive habit results for long-term health rather than a fleeting flash of a blood sugar high, which can have dire results metabolically.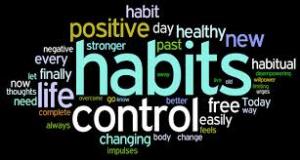 Case in point: I have made swishing out my mouth first thing each morning to be a trigger to remind me to drink a glass of water. Drinking the water is the action. The reward is the knowledge that I am doing my body a favor, assisting it to function at an optimal level, and I have already done something positive for myself before my eyes have really opened. The second trigger is right before I leave the bathroom; I drink the second glass of water. Downing two glasses of water at once is too much for me, so I have found that drinking a glass of water at the beginning and end of my morning routine works best. There! I am on a roll now of doing positive things, so that leads me into the bedroom to take 30 seconds to make the bed! Wow! Two pluses and the day has hardly begun! Keystone Habits!
Once we enter the kitchen, there is another Keystone Habit that can pave the way for a day of even energy flow, maximum nutrition, and stable blood sugars. A great breakfast is the answer, but so many of us do not have the time to scramble a couple eggs in "happy butter" (from pastured and totally grass fed cows) served with a generous portion of veggies.
Some of us actually dash out the door, stop off at the nearest fast food chain for a highly-processed, gluten-filled, greasy biscuit filled with some kind of highly-processed, edible food-like substances, followed with a sugary drink or a sugar-laden latte to be eaten at in the car or first thing at work. Stomach in knots, blood sugar levels guaranteed to plummet later, and require to be "fixed" by a vending machine snack…. So goes the day. Sound familiar?
If you do not have the time to reheat last night's protein and veggies, or to cook from scratch each morning, may I introduce you to a Smoothie? I've spoken of them before, but would like to share some different ideas today. Smoothies can actually be made the night before. It's fun to concoct a blender-full with someone else. It could be a family affair; chances for family-wide buy-in to drinking a nutrient-dense smoothie skyrocket when everyone helps.
First of all, smoothies are not about being sweet. The goal is nutrient density. Fruit is just a part of it. If your goal is for the most stable blood sugar levels possible, fruit choices should remain in the berry category. Blueberries, blackberries, and raspberries should be at the top of the list because of their low glycemic load, followed by strawberries. In any case, fruit should be measured at about ½ cup per 8-ounce drink. The rest is a choice of seasonings (salt, vanilla extract and "sweet spices" as I call them), fluid (water, coconut milk, almond milk, coconut water, or strong green tea), a good fat (avocado, coconut oil, or flax oil), and a good protein (nuts or nut butters, whey protein, powdered egg whites, and various seeds that also provide a good fat profile: hemp, chia, and flax), and greens (baby spinach, kale, and chard). Believe me, those greens really do not change the flavor substantially, but they are vital to make this the Keystone/Powerhouse drink we want to hold us for hours and help our bodies function optimally.
Now here's the thing. You put the fruit, seasonings, fluid, and fat in the blender and blitz it; then you add the protein and seeds; blitz some more. Pause. Enjoy the color! If blueberries were your choice, you'd have a great blue/purple color. Lovely! If red berries or cherries were your choice, wow! Gorgeous pinks and reds!
But, wait! There's more! We haven't added our nutrient-packed greens, yet! OK. You remember art class back in school? Red and Green makes……right………brown.
Now this is where my being the instructor of future medical students comes to play. I remember the speech now…. Class, what color is blood? Red. Very good. Now is blood in its natural form dry or wet? Wet. Excellent. So, from now on, when you see blood, it will be pointless to scream like someone who has never seen that red, wet fluid, won't it? Get over it. Blood is red and wet. Done! No screaming!
Either you can handle the potentially gloomy transformation of your beautiful, colorful concoction into varying shades of brown or puce, or you can't. If you can't "man-up" about it, or if your car-pooling colleagues might grab for a barf bag, or if you just don't want to start "that" conversation again at work, I have a solution!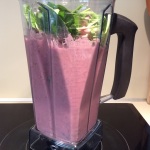 Let's look at before and after pictures of today's recipe of 2-3 Tbs. coconut cream, 1 cup coconut milk (unsweetened), enough water to make things a good consistency (about 1 cup or so), cinnamon, nutmeg, vanilla, salt, 2 coffee scoops each of hemp hearts, ground flax seeds, and chia seeds, ½ banana, and 1 cup of mixed berries and cherries. This recipe is for at least 4 servings.
Beautiful, isn't it?
See that spinach on top; yet to be blended?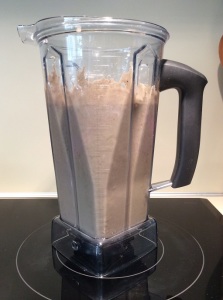 Just makes you want to drink it, right?
Yummmmm!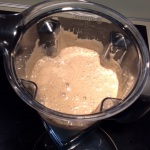 Well, I can handle it; maybe because I used to be a nurse, but many people can't. So here is my answer to the problem! Behold, the Mason jar decorating trick!
This could be a great family project! I selected watermelon shades that would remind me of the previous look of my beverage, before the greens.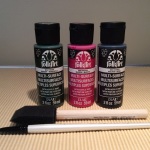 First thing you do is clean the surfaces to be painted with alcohol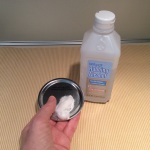 Then you apply the first coat, making sure to keep any painted area well away from the drinking area- at least ¾ of an inch.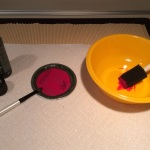 Wait one hour for the first coat to dry, then apply the second coat.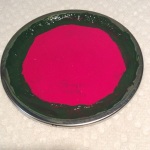 Wait another hour before painting in the watermelon seeds.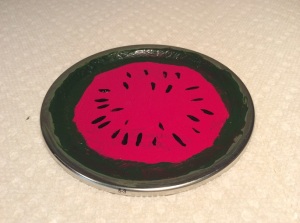 Once your creation is totally dried, put the pieces in a cold oven. Shut the door. Turn oven to 350 degrees. When the oven has come up to temp, set the timer for 30 minutes. At the end of 30 minutes, turn the oven off and WAIT. Wait until the oven has thoroughly cooled down. I did this one evening and just waited until morning to take the jars and lids out. DO NOT open the oven to peek at any time because that could crack the finish. Once completed, the objects are dishwasher safe.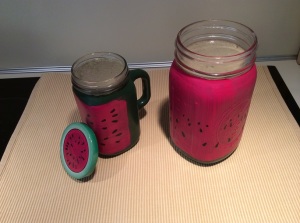 So, enjoy your smoothie! Whether it turns out to be a green monster (I like those, too!) or something that's perfectly puce, you can have fun while enjoying your nutrient dense drink and get the reward of knowing you are doing something really good for your health and well-being that will set you up for smooth running all day long! Keystone Habit!
Hope arts and crafts time is fun for you and yours-
Deidre
Disclaimer: The information being discussed in these blogs is NOT intended to replace a relationship with a qualified health care professional. Foodtalk4you blogs endeavor to empower people through the exploration of publicly available resources of information about human anatomy and physiology, and how different foods affect the human body. Readers should seek the advice of their qualified health care providers with any questions about their medical conditions or health status before attempting any dietary, exercise, or lifestyle changes.