Pesto can be such a versatile thing to have around, and making it at home is such an easy and rewarding project. I always plant some sweet basil plants each spring in anticipation of their abundant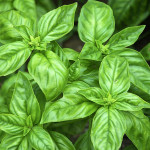 growth and distinctive fragrance. With a tendency to over plant these prolific growers, I limited myself to just two plants this year and have churned out my first batch already after just a month of growth. Now that we are seriously in the growing season, there should be another batch in 2-3 weeks! Fortunately, you can also purchase fresh basil from the local farmers' market or grocery store as well if you lack any from your garden.
There are several varieties of basil, each with its own signature flavor. The kind served with a luscious bowl of hot Pho in Asian restaurants is so spicy, and a wonderful flavor enhancer of that steamy noodle soup. The noodles are gluten-free, made from rice, and a part of the 20 in 80/20, Paleo eating described last week. Going to your local nursery, gently touching the leaves of the different basil varieties, and smelling your fingertips, will clue you into how they taste.
Recipes abound for pesto but they pretty much look the same to me. I can't claim authorship of this universal combination of just a few ingredients. So here's what to do with your harvest or purchase: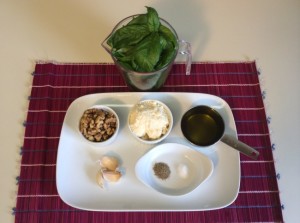 Sweet Basil Pesto
INGREDIENTS:
2 cups fresh sweet basil leaves, packed
1/2 cup Parmesan, Parmesan-Reggiano, or Romano cheese, grated
1/2 cup extra virgin olive oil
1/3 cup walnuts or pine nuts
3 cloves garlic
Salt and freshly ground pepper to taste – (I used not quite a ½ tsp. of Kosher Salt and about the same amount of black pepper)
HERE'S WHAT YOU DO: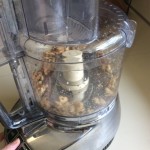 • Using a food processor, pulse the nuts a few times.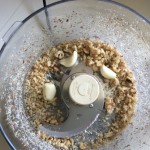 • Add the garlic cloves and pulse some more.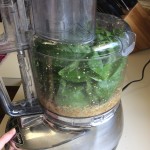 • Add the basil and pulse until it looks like this.
•With the food processor fully on, slowly pour the olive oil through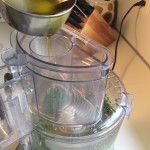 the shoot.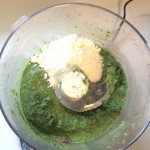 • Stop to scrape the sides down and add the grated cheese. Pulse until combined.
• Add salt and pepper and pulse to combine.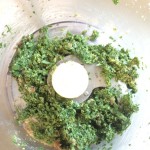 • Float some extra olive oil on top to seal in the vibrant color
This should yield over a cup of fresh pesto for you to enjoy, give away, or both!
What to do with pesto?  Well…..add your fresh pesto sauce to:
– some zoodles (See Post) for a tasty side dish
– sautéed shrimp
– cooked chicken
– dip a piece of GF (gluten-free) bread into
– enhance GF sandwiches or deli meat roll-ups
– spread onto salmon before baking
– top any cooked veggie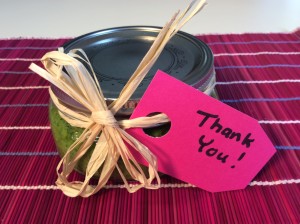 Fresh pesto is a great thank you gift to your kind neighbor who watered your basil plants for you while you were on vacation!
Deidre
Disclaimer: The information being discussed in these blogs is NOT intended to replace a relationship with a qualified health care professional. Foodtalk4you blogs endeavor to empower people through the exploration of publicly available resources of information about human anatomy and physiology, and how different foods affect the human body. Readers should seek the advice of their qualified health care providers with any questions about their medical conditions or health status before attempting any dietary, exercise, or lifestyle changes.