Tired of swooning over the covers of Southern Living and other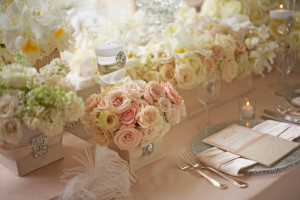 magazines just wishing you could join the rest of the world in cool summertime deliciousness?  Except, you have wisely chosen to no longer eat gluten; and since giving up sugar, you really do not want to get that addiction started again.  So, you stand in the line at the checkout counter at the grocery store and you salivate at the magazine covers looking pitiful and deprived.  It could be embarrassing:
"Clean up at register 5; customer weeping buckets and drooling on the floor!"
I regularly prepare what I like to call "Fruit with Benefits" which is a concoction of already healthful berries, sometimes an apple or a pear, and varying amounts of Great Lakes gelatin and ground flax seed.  This gives me all the goodies of the berries PLUS protein, PLUS more fiber, PLUS Omega-3 fatty acids!  A small scoop of this satisfying dessert and you are a happy camper.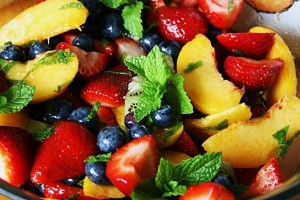 Since developing my "Fruit with Benefits" skills, I am always looking for ways to squeeze in some more nutrition.  Therefore, when presented with this mouth-watering spread in the magazine about icebox pies, I began to wonder…and as the imaginative and creative juices flowed, an idea formed… Well, I think I've done it!
There is a bit of sugar, just over ½ cup total, for the entire pie but that's compared to way over 1 cup of sugar in the original recipe that uses store bought peach preserves which have who knows how much sugar?!
The original recipe called for folding gobs of whipped cream in the filling, but I chose to not even convert that by using more whipped coconut cream.  Enough is enough.
I have tried lots of gluten free pie crust recipes, but this one is the best.  One of the things I especially liked were the occasional whole flax seeds that had escaped the food processor blade; it not only tasted great, but it looked great, too!
So, do not despair my lovelies, this will be a great treat, not sweet enough to initiate binge carb fests, but smooth and creamy and peachy enough to make you smile!
This recipe has plenty of bone and joint health benefits of gelatin and boosts in protein from not only the gelatin and eggs but from the flax seed that also gives omega-3 fatty acids! Win! Win! Win!
Prepare the crust first so it can completely cool before adding the contents.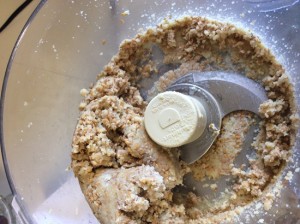 Put the following ingredients into a food processor and pulse until well-combined:
1/2 cup whole flax seeds
1 cup almond flour
1/4 cup sugar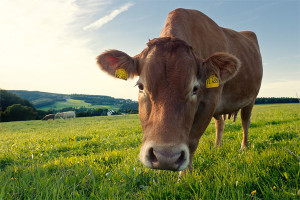 1 tsp. Kosher salt
6 Tbsp. butter from pastured cows, melted- (I use the Kerrygold brand)
Pat dough into a smooth ball and press into a 9-inch, lightly- greased pie plate. Evenly distribute the dough, pressing it up the sides.
Create an edge.  I just pressed a fork into mine.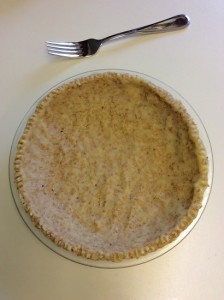 Bake 6-10 minutes at 325 degrees until golden. Remove from oven and cool.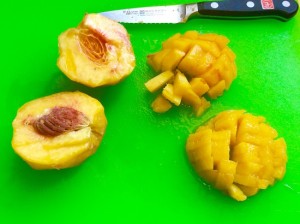 Prepare fresh "jam" by putting the following ingredients into a sauté pan and cook on medium until it comes to a boil, check for sweetness, and take off heat:
1 Tbs. coconut oil
2 peeled and finely-diced peaches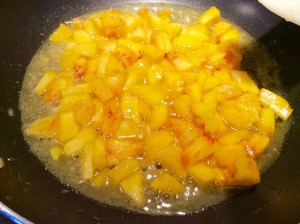 1 Tbs. lemon juice
1 Tbs. sugar
1 Tbs. gelatin that is wisked together with 1/4 cup boiling water: NO lumps!
Prepare the filling as follows: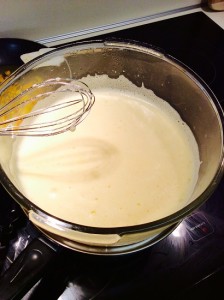 Fill a 3 1/2 quart sauce pan with water and bring to a boil over medium-high heat. Reduce heat to medium to keep at a simmer.
Using an electric mixer with the whisk attachment, whisk the following together in a 2 1/2 quart glass bowl:
3 large eggs
1/3 cup sugar
Place bowl over simmering water and cook while whis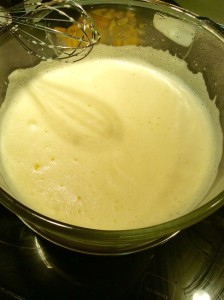 king constantly five to six minutes or until mixture becomes slightly thick and sugar dissolves. Remove from heat and the simmering water.
Place 4 tsp. gelatin in a small bowl and pour 1/4 cup boiling water over it, whisking constantly until gelatin is completely dissolved.
Using the handheld electric mixer, whisk the egg mixture on high speed for 8-10 minutes until ribbons form on surface of mixture when beater is lifted.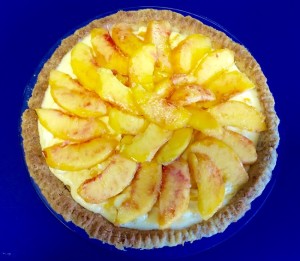 Add gelatin mixture and continue whisking one more minute.
Fold in the peach "jam" and a pinch of kosher salt.
Spoon filling into cooled pie crust and arrange thin sli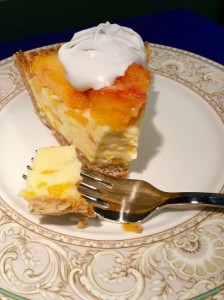 ces of 2 medium peeled peaches over the filling. Cover with plastic wrap and freeze 2 hours.
Serve slices of pie with a dollop of whipped coconut cream sweetened with a pinch of sugar and a splash of vanilla!
Going, going, gone!
Just peachy!!
Deidre
Disclaimer: The information being discussed in these blogs is NOT intended to replace a relationship with a qualified health care professional. Foodtalk4you blogs endeavor to empower people through the exploration of publicly available resources of information about human anatomy and physiology, and how different foods affect the human body. Readers should seek the advice of their qualified health care providers with any questions about their medical conditions or health status before attempting any dietary, exercise, or lifestyle changes.