Have you noticed?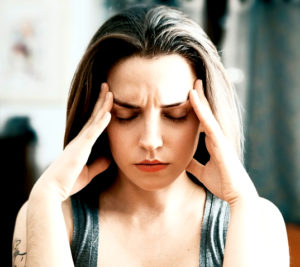 Can you hear that?
People whimpering… Aches, pains, and just feeling bad are all around.
After maintaining stable health and immune systems through the fall and early winter, folks are dropping like flies to bronchitis, strep, sinus infections, colds that travel through the entire family and even to the pets, (a Chihuahua sneezing is a sad state of affairs), flu, and pneumonia. I have friends on Facebook with tender bodies who even complain their hair hurts.
That's bad.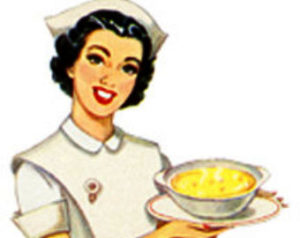 Forget the New Year's party hats. Where's the chicken soup?
If you or your loved one fall into the category of the "whimpering needy," then some serious TLC is headed your way! With minimal energy, you can fix these soothing, nutrient-enriched recipes in a jiff! With a few basic ingredients, you can go a long way to body-friendly comfort measures.
One is a healing and strengthening tea, and the other is soup. While others are dashing to the store for peanut butter, bread, milk, and eggs in the face of winter storm advisories, make sure you grab: lemons, fresh ginger, fresh garlic, honey, chicken, quality broth, and green tea.
Background information:
Fresh ginger, lemon, and honey tea is a tried-and-true standard for throat therapy and protection.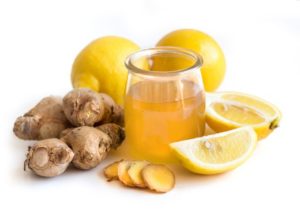 Ginger is often referred to as a universal medicine and dates back to ancient Chinese and Ayurveda traditions. Ginger tea contains high levels of vitamin C, amino acids, and trace minerals. As an anti-inflammatory, ginger calms down unhappy tummies and helps to open airways.
Lemon is also a good source of vitamin C and has long been touted as a benefit to daily detox, get-your-body-started-for-the-day, and a help for regularity. My spry grandmother was a firm believer in daily lemon water; she lived a healthy 100 years. So, there you go!
Honey is not only a good source of energy, but packs a powerful load of antioxidant, has antibacterial and anti-fungal properties, and is a natural cough suppressant.
Hot or cold, ginger-lemon-honey tea can be just what the doctor ordered. Given the current freezing temperatures, hot is preferable.
Here's what you'll need to do for a quick healing brew:
GINGER LEMON HONEY TEA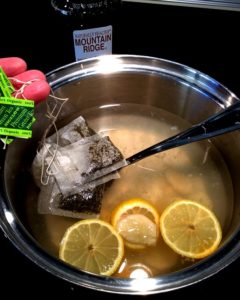 In a saucepan, assemble:
About 1 to 1 1/2 inch of peeled, sliced fresh ginger
Juice of 1 lemon – And a few extra slices of lemon to float around, if desired
Honey to taste
5-6 bags of green tea
6 cups of water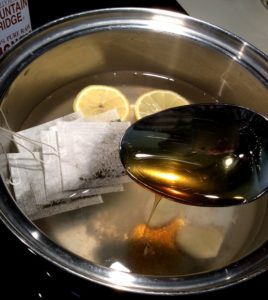 Heat all ingredients on medium heat and let steep awhile.
Strain and serve. Refrigerate leftovers to reheat.
This can be a bit tangy thanks to the ginger and lemon; vary the amount of honey to balance the sweet-to-tangy ratio.
__________________________________________________________________
That wasn't too hard to do! Now you have something helpful to sip on while you prepare this gentle, healing, and easy-to-prepare meal.
Background information:
Garlic is rich in allicin, which has powerful antioxidant properties and is beneficial to blood pressure and blood sugar regulation (See my book, Toolkit for Wellness for more information about garlic and other allicin-containing foods.)
Chicken soup – aromatic and therapeutic – just ask Grandma. It works!
__________________________________________________________________
GARLIC LEMON HERB CHICKEN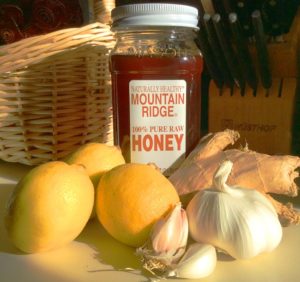 Any cut of chicken will do. Today I used a chicken breast, semi-frozen and chopped into small pieces. Other times, I have used thighs with bones in to stew a long time. Whatever cut of chicken you have around will do.
About 5-6 cloves garlic, smashed and chopped (do this at least 10 minutes prior to cooking to release the good things – allicin – that make garlic good for you)
About 1 inch to 1 1/2 inches of peeled, sliced fresh ginger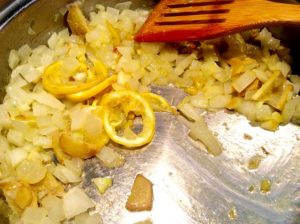 One lemon, rind ends removed, sliced and seeded
Some onion, chopped (Do this 10 minutes before cooking, as well)
Salt
Pepper
Dill weed – The dill weed pairs very well with the lemon
Chicken Broth – free range, if possible
Optional, rice-based, gluten-free noodles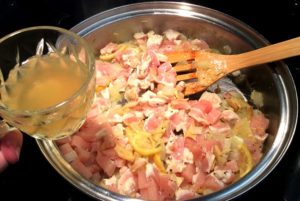 Sauté the onions, garlic, ginger, and lemon slices in butter and olive oil until onions are translucent.
Add chicken. If cubed, stir until all sides lose their pinkness. If whole pieces, brown on each side.
Add broth and seasonings to taste. Simmer until meat is done and flavors have incorporated.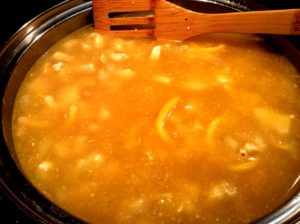 Optional: Before serving, add some Thai, thin rice noodles if your tummy will allow. These cook in a couple minutes.
___________________________________
The good thing about this soup is you can eat it in stages as your constitution allows:
Savory broth first.
Broth and a few noodles next.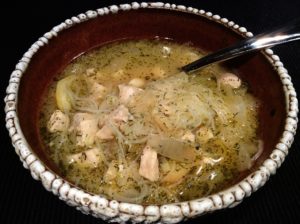 There is nothing like Mama's TLC and chicken soup, to be sure, but this comes in at a close second- especially if you are the source of your own TLC!
Cuddles to my friends in need. Sorry you have whatever version of the "crud" you have. Nurse yourself back to health with this healing tea and soup. Don't try to get back onto your feet too fast or your body will let you know who is boss for sure. Relapses are usually worse that the first round!
Be safe!
In health-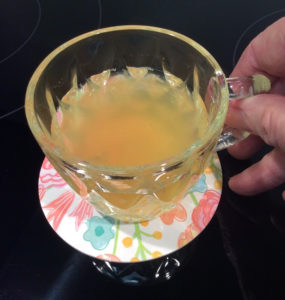 Deidre …  Healing from a sty that has made me feel like I had a cold.
Now, where's my tea?