Chef vs. Baker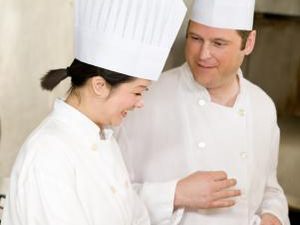 Which are you? Pinch of "this," and a dash of "that"?  Or, "one level cup of sifted flour"? Chef or baker?
It's just that I'm more of the chef type; but sharing recipes requires more refined explanations of measurements for predictable outcomes. Thus, MANY batches of scones have been prepared, photographed, recorded … and eaten. *burp*
Pardon me!
I know, I know. Tough job but somebody has to do it.
Foodtalk4you has been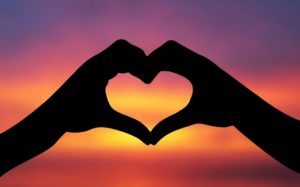 ever so quiet lately due to my caregiving ministrations, which are always a priority. Thank you for your patience and understanding concerning my unpredictability. My dear husband continues to be under hospice care and my care at home. Still confined to bed, his uncomplaining and appreciative attitude is sprinkled with humor, insight, and love.
The kitchen "laboratory" however, has seen a lot of activity as I tried to optimize my favorite scone recipe to give you consistently wonderful results.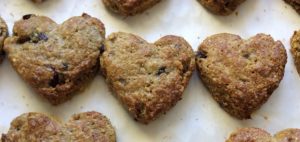 With a Valentine's Day post in mind, I kept making these little darlings in heart shapes. Needless to say, I missed that deadline; but a heart-shaped scone is so precious any time of year! A good way to say, "I love you!" don't you think?
You can make the typical scone shape which is achieved by rolling the dough into a circle, slicing into wedges, separating the wedges, and baking.
The heart-shaped scones require a bit more effort using a cookie cutter; and can b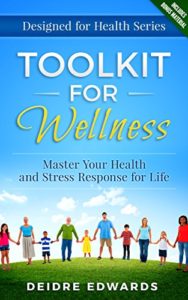 e problematic if the walnuts are not finely chopped. A secret method? I ended up actually filling the heart shape, pressing the dough down to reach the edges and height of the cookie cutter exactly. Consistent results and portion control.
Long time readers of Foodtalk4you and Toolkit for Wellness know that, just because a recipe is gluten-free, does not make it healthy. I am always trying to pack in extra good-for-you ingredients and to dial back added sugars. This recipe for scones that love you back does that with:
Quinoa Flakes- a rare source of plant-based essential amino acids. Those are the amino acids our body does not make by itself, thus we must get them from our diet. Amino acids are the "building bloc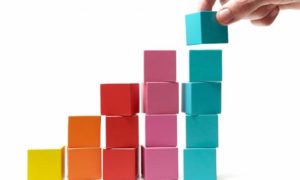 ks" of proteins. Just 1/3 cup of quinoa flakes contains 4 grams of protein.
Collagen Hydrolysate – unlike gelatin, this powder does not congeal. It is a power house of satisfying, satiating, healing protein that is packed with 20 amino acids! Two rounded tablespoons of collagen hydrolysate yields 11 grams of protein.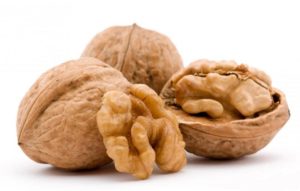 Walnuts- a great source of plant-based Omega-3 fatty acids, antioxidants, and an amino acid l-arginine which is heart healthy. Walnuts have been shown to help with brain function, suppression of tumor growth, weight control through increased satiety, as well as improved blood sugar levels. Experts say that even a quarter of a cup of walnuts a day can positively impact our health.
Regarding all nuts: Please buy raw, organic nuts for maximum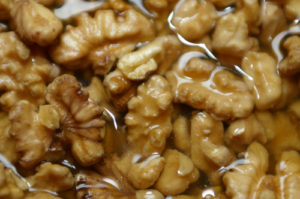 benefit. But wait! You're not done! Remember to soak your raw walnuts overnight in salted water; rinse and drain; then dehydrate at a low temperature (110-118 degrees) until light and crispy. The results are crunchy and much more digestible. As always, refer to your copy of Toolkit for Wellness for the full scoop on the whys and wherefores of sprouting all of your nuts to ease their digestion.
Another plus to this recipe is it requires a minimal number preparation tools and little clean up. Check out my new cool stirring device.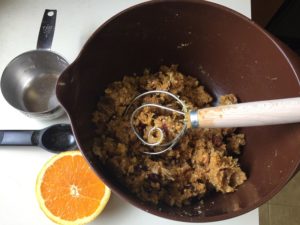 Instead of using a floured surface to roll out the dough, I just use the same parchment paper sheet used for the baking. Easy-peasy clean up!
So, that's the back ground material on "Scones that love you back." Let's get to the recipe.
SCONES THAT LOVE YOU BACK
Dry Ingredients
1 cup Quinoa Flakes (I use Ancient Harvest brand)
1 cup almond flour
¼ cup collagen hydrolysate (I use Great Lakes brand)
3 Tablespoons coconut sugar
2 teaspoons baking powder
1 teaspoon baking soda
1 teaspoon xanthan gum
½ teaspoon salt
Rind of one orange, zested
¼ dried cranberries, chopped
¾ cup walnuts, chopped
Have on stand-by: 1 or more Tablespoons of ground flax seed if dough is too wet
Wet Ingredients
¼ cup butter, melted (I use Kerrygold brand – from "happy" grass fed Irish cows)
1/3 cup orange juice with pulp
1 egg, beaten
Glaze
Optional
Turbinado Raw Cane Sugar Crystals to sprinkle on top before baking
Method
Put all dry ingredients into a mixing bowl and stir well to combine.
Add wet ingredients, stirring well to combine and create dough. If the dough seems too wet or sticky to a light touch of finger tips, add one tablespoon of ground flax, stirring well.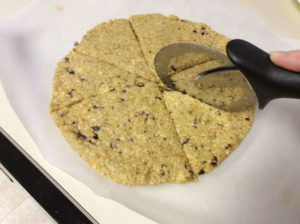 Flax absorbs moisture. Wait a minute to test dough again before adding another tablespoon of it, if needed.
Turn dough out onto a parchment paper covered baking sheet. Form into a smooth ball and press down to a circle with ½ inch thickness.
For traditional scones: cut into 8 wedges using a knife or pizza cutter; separate slices on baking sheet; follow ba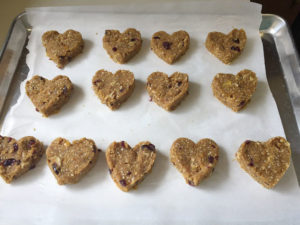 king instructions.
For heart-shaped scones: use a cookie cutter to press out shapes, reforming scrap dough into another ½ thick layer until all dough is used. OR use my secret method of filling each heart-shaped scone, hand pressing the dough into the shape, and level with the top of the cutter. Separate scones on baking sheet.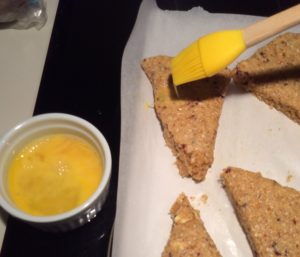 Apply egg wash using a brush.
Sprinkle just a dab of Turbinado crystals on top of each scone, if desired. It looks nice but is not intended to become a sugar-bomb coating.
Bake at 350 degrees for 15-20 minutes. My heart-shaped 2 ½ inch across scones take 18 minutes. Scones should be golden brown when done.
Cool on wire rack.
Enjoy these healthy scones for a delightful start to your day.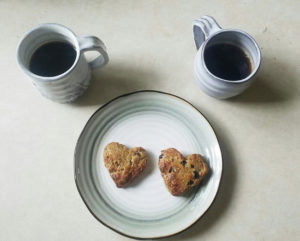 Subscribe to our blog by clicking the subscribe button on the left side your screen. We promise that your information will never be shared and I absolutely will NOT bug you with daily requests or 'hot deals.' You will simply get one notification by email that links you to a new post when it comes out.
For a printable recipe, CLICK HERE: SCONES-THAT-LOVE-YOU-BACK-PRINTABLE
In health-
Deidre