With a lot of help from Sheree Alderman and Michael McClendon,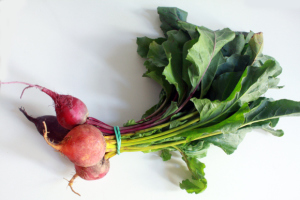 we are finally able to present to our readers our first e-booklet covering the recipes posted last year in a usable PDF format! Yay!
Magic Mousse, Broth, Dumplings, Smoothies, Gravy… it's all there! To get your copy, all you have to do is: Click on the link FoodTalk4U 2014 Recipes and wella!! Just follow the prompts on top of the screen on the right hand side to download it!
I am follow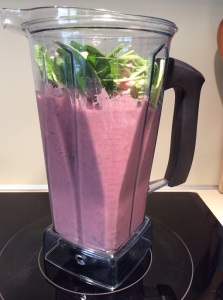 ing 'my bliss' (see recent blog by same name) by delving into writing my first book! It is designed to go along with the 'Designed for Health' series that I teach here in New Bern, North Carolina, a couple times a year but will certainly be a helpful guide for any reader! It's still unfolding before my eyes, and I look forward to seeing it in my hands… and YOUR hands!
Book writing and self-publishing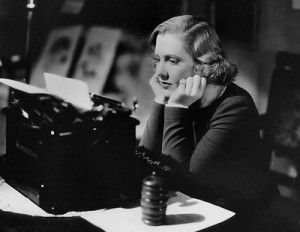 represents such an exciting learning curve! I am reading more than ever, above and beyond the daily food and wellness research; and then, of course, there's the writing. Writing, writing, writing. I am trying to garner more resources for you and put together tools for you that will guarantee your personal success at a higher, more complete level of wellness than you ever imagined!
In the meantime, how does your plate look?
Here are two representations that summarize what I have been talking about:
1) The goal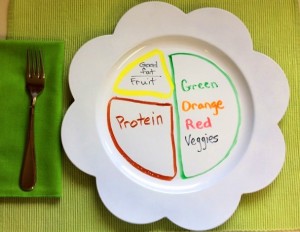 2) How breakfast might be composed.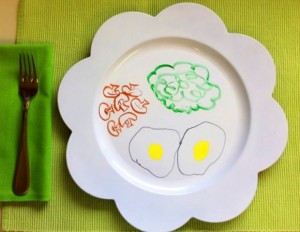 What's the 'green stuff' in breakfast? Well, usually, I will grab 2 or 3 handfuls of baby spinach or a baby spinach/baby kale combination and throw them into my enamel non-stick pan with 'happy butter' from grass fed cows, similarly sourced Ghee, coconut oil or olive oil, and wilt the leaves. It's a cinch! Stir those babies around a minute and they're done! Add some pink Himalayan salt or lemon pepper, and you're all set!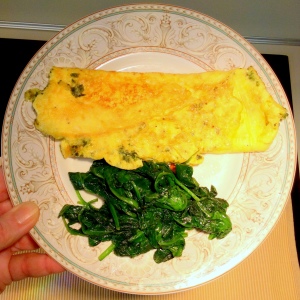 Or…you can reheat last night's leftover greens. Really, once you start doing this, breakfast will look funny without some healthy greens. Asparagus? Go for it! Sprouts? Green beans? Do it!
I always try to keep some mushrooms around. If they are not leftover, start them first in the pan and when they are finishing browning on the second side, scoot the mushrooms to one side of the pan and cook the spinach. After plating the veggies, you are ready to cook your eggs. Or….you can whip up the eggs, start cooking them, then add the veggies for an easy omelet!
See, you do not have to be a Master Chef to take control of your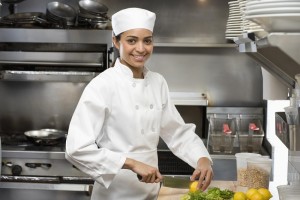 nutritional destiny!
It is so easy!
Enjoy the FoodTalk4U 2014 Recipes
Deidre