If you buy a butternut squash every year thinking you'll d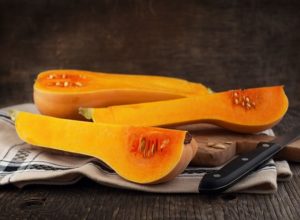 o something creative with it but don't…. If that lowly butternut squash just sits on your counter promising to be nothing more than an object you might want to grab in self-defense during a home invasion… Then stay tuned for some great news!
Good. Better. Best. Never let it rest until good is better, and better is best!
Plain butternut squash soup is… good.
Add caramelized onions and garlic to get something… better.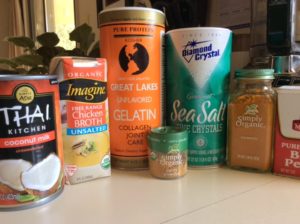 Add anti-inflammatory spices, creamy good-fat from coconut milk, and bone building gelatin, and you'll have the best steamy bowlful of butternut squash goodness you've ever had! It's the BEST!
Let's get right to the recipe. This is so easy to do and was a lot less of a mess to do using my immersion blender! Wow! First time using it for creamed soups – no more transfers to the blender and then to another soup pot.
Easy-peasy!
The day before, I sliced a butternut squash lengthwise, scooped out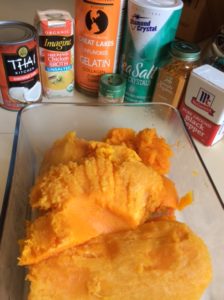 the seeds, and put the cut sides down on to a rack in a baking dish with about ½ inch of water in the bottom. I baked the two halves at 350 degrees until tender enough to easily poke with a cooking fork into the thicker neck section of the squash – about 50 minutes. When cooled enough to handle, I scooped out the flesh and stored it in a container overnight.
Armed with plenty of cooked squash, putting this soup together the next day was a smooth process. Pun intended.
Simply follow the recipe below:
GOOD – BETTER – BEST BUTTERNUT SQUASH SOUP
Into a large soup pot on medium heat add:
1 yellow onion, chopped*
½ BULB of garlic (that's about 5-6 cloves), peeled, smashed, and chopped*
Extra Virgin olive oil to cover the bottom of a soup pot
A dollop of grass fed butter for an extra yummy factor (about a Tablespoon or so)
Slowly sauté veggies until clear. Reduce heat and add a tablespoon or two of water to continue cooking to caramelize veggies. This may take 7-10 minutes.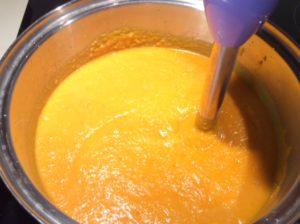 (*) Make sure to let these prepared allium family vegetables rest at least ten minutes before cooking. See my book, Toolkit for Wellness, page 162, to learn why.
Add the following seasonings and ingredients:
2 teaspoons of curry
1 tablespoon of turmeric
Salt to taste
Pepper to taste
½ can full fat coconut milk (if the cream is solid, scoop out about half to use and pour about half of the clear fluid into soup pot)
¼ cup of Great Lakes unflavored gelatin, evenly sprinkled over the top of the ingredients
1 – 8 ounce free range chicken broth with about ½ cup of water to rinse out container
Flesh of one baked butternut squash
This is where the fun started for me. Using my trusty immersion blender, I simply blitzed the cooked soup ingredients into creamy wonderfulness. No more using a dripping ladle to fill a blender in small hot batches to blitz, then pour into ANOTHER soup pot to finish. Yay! I can't recommend my immersion blender enough!
Once the soup was piping hot there was nothing left to do but enjoy!
Deidre
I've worked up my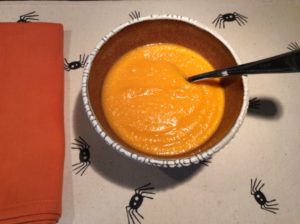 appetite for some healing soup and will be pulling out some of this Good – Better – Best Butternut Squash Soup from the freezer for dinner tonight!
Please let me know how you like this.
Editor's note: Please CLICK HERE for a printer-friendly "Best Butternut Squash Soup" recipe!