Kale. Kale. Kale. Spinach. Spinach. Spinach. It's too early in the season for collards. I tried the cabbage collards this summer, but they just didn't grab me. Maybe my taste buds are seasonal and were looking for that fall collard taste; whatever it was, it was a no-go for me. What to cook?
Our daughter kept mentioning cooking with leeks in a stir fry, so when looking at the greens in the veggie department the other day, I decided to grab a leek and a bundle of three baby bok choy that would go along with some onion for a creative stir fry. The left-overs rewarded me for several days, too, still maintaining their freshness.
Behold—the Sesame, Leek, and Bok Choy Stir Fry
INGREDIENTS
1 Leek
¼ large onion
1 Bundle of Baby Bok Choy with three bunches
½ inch fresh ginger, peeled and minced
2 cloves garlic, minced
2 Tbs. Extra Virgin Olive Oil
2 Tbs. Sesame Oil or Toasted Sesame Oil
1-2 tsp. sesame seeds
METHOD
1. Prepare the leek by slicing in half lengthwise and holding each half under water, fanning the leaves to remove any grit. I sometimes remove the outer leaves to hand wash each one; it is not fun to suddenly find an unexpected crunch while chewing delicious leeks! Trust me; I know!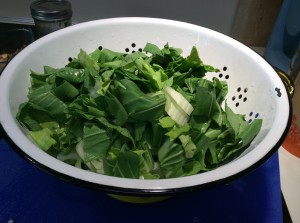 2. Then slice the leeks across the grain, resulting in little half rounds.
3. Slice the ¼ large onion to give a similar shape as the leek slices.
4. Carefully wash the Baby Bok Choy and slice across to give a similar shape to the other veggies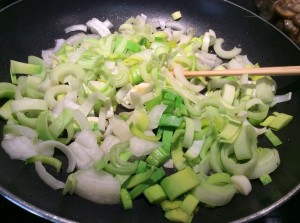 5. Put olive oil in the sauté pan and add onions and leeks and cook over medium heat.
6. While onions and leeks start cooking, mince the garlic and the ginger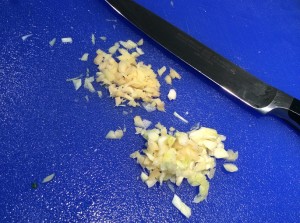 7. Continue stirring the cooking veggies occasionally until the onions start to become translucent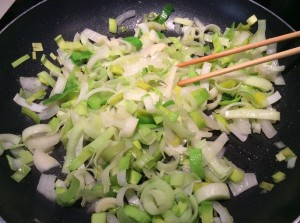 Cooking onions and leeks with chopsticks
8. Add the drained bok choy and continue stirring occasionally. As the bok choy starts to wilt and become a brilliant dark green, add the Sesame Oil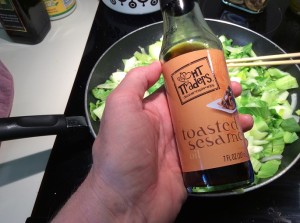 Toasted Sesame Oil
9. Also add the minced garlic and ginger
10. When all ingredients have been combined and are fragrant, serve and garnish with Sesame Seeds.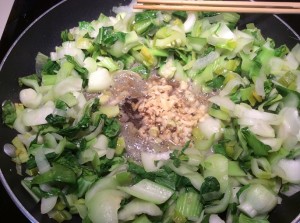 Disclaimer: The information being discussed in these blogs is NOT intended to replace a relationship with a qualified health care professional. Foodtalk4you blogs endeavor to empower people through the exploration of publicly available resources of information about human anatomy and physiology, and how different foods affect the human body. Readers should seek the advice of their qualified health care providers with any questions about their medical conditions or health status before attempting any dietary, exercise, or lifestyle changes.