Remember "gradual and consistent," the concept that success comes from consistent small efforts over time will yield greater results versus giant goal-setting?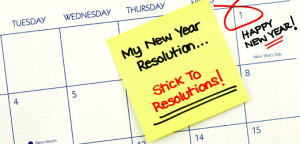 With the New Year upon us and with conversations whirling around us about resolutions, it would seem an excellent time to reconsider how we can apply this gradual and consistent concept to our daily health and life issues.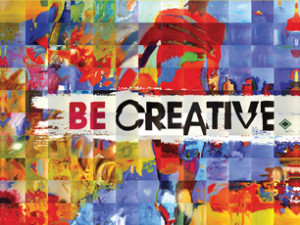 Just because the calendar page now says "2015" does not mean we have to reinvent ourselves. But in looking at the array of life issues we are handling, does it not make sense to make sure our minds and bodies are at their best so we can optimally approach our personal challenges? We cannot be creative, resourceful, cooperative, considerate or anything else we may strive to be if we feel awful physically or mentally.
Want to lose 50 pounds by June? Forget it! Just concentrate on how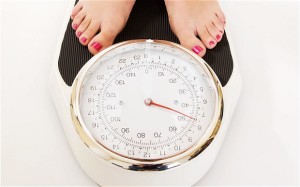 your next meal looks. Then concentrate on how the next meal after that looks. Want to tone up to wear a smaller size by a particular date? Don't spend a week shopping for the right exercise clothes; what kind of push-ups or planks are you doing right now?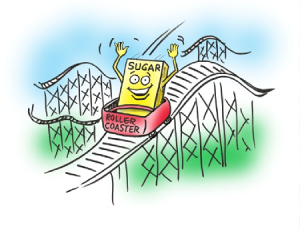 I think one of the biggest successes at health transformation is balanced blood sugar. This may be of particular importance now as we are coming off of holiday indulgences. Even gluten-free starches can add to the waistline. To paraphrase Dr. Mark Hyman's article from December 26, 2014, here are three thing that we all can do to help end that need to roam around the kitchen looking for holiday delights.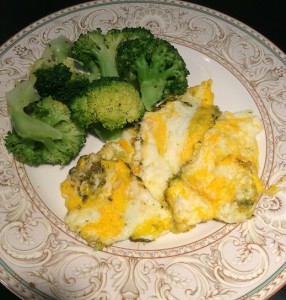 1. Commit to booting unnecessary starch. Carbohydrates are an important macro-nutrient vital to body function, but we need to embrace plant carbohydrates and use nuts and seeds as healthy protein snacks. My immediate goal is to incorporate plant carbohydrates at every meal; half my plate is usually vegetables. Even at breakfast.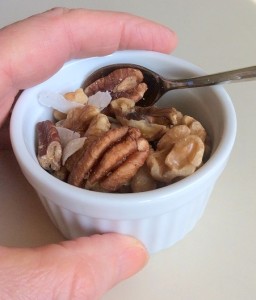 Prior to the holidays, I activated many bags of nuts to prepare for gift-giving and snacking. My recent reading about nuts have again reminded me that daily eating of walnuts is extremely beneficial as an omega-3 and anti-oxidant resource.
See article on activating nuts here.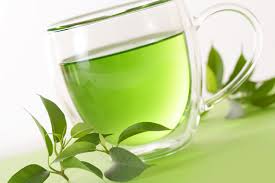 2. Emphasize water and green tea consumption instead of calorie-laden drinks. Forget thinking artificial sweeteners are a caveat to this rule. There is a host of badness happening with those devils that I will share about in a coming post. At the very least, artificial sweeteners tell your body that glucose is on the way, and it's not; many studies point to over-eating as a natural response to this conflicting communication with the body.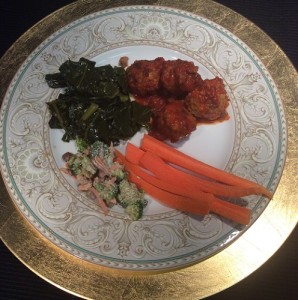 3. Make sure that every meal has high quality protein; especially the first meal of the day. Protein is a vital macro-nutrient that fills, satisfies, and energizes the body for the rest of the day. Do not start your day on an empty tank! From last night's leftover meat to eggs, nut, seeds, nut butters, or a protein shake/smoothie, high quality protein will keep you going for hours and eliminate the need to roam to a snack machine. Also, use quality fat to cook that protein such as coconut oil, extra virgin olive oil, or ghee. A quarter of an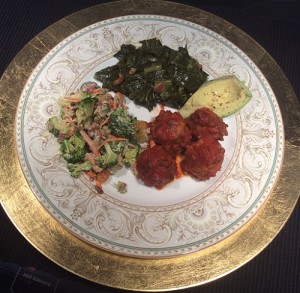 avocado will also augment your power resources as well.
So, how to gradually and consistently apply these guidelines?
Start now! Don't wait until everything in your kitchen is perfectly aligned or the last slice of (gluten-free) bread has been consumed. Whatever you are going to eat or drink next is what counts. Reflect on the adage from Alcoholics Anonymous, "One day at a time." How about one meal at a time? One snack at a time? Such next-moment goal setting is a proven winner!
In a restaurant? Wave off the bread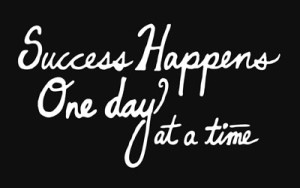 rolls, peel off the hamburger roll as you eat the insides, double-up on the veggies instead of having a baked potato, choose broiled seafood or fish instead of breaded and fried. You get the picture.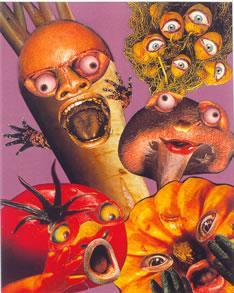 In the market? Stick to the perimeter of the store as you choose protein and veggies. Skip the isles which generally carry starchy packages of highly- processed "Frankenfood." Better yet, stop by the farmer's market for locally grown veggies picked that morning!
Plan for ease of success. I have really become partial to marathon cooking events. Many families gather in the kitchen during the weekend to share in advanced prep-work and actual cooking for the week's menu. For instance, someone can peel the meat off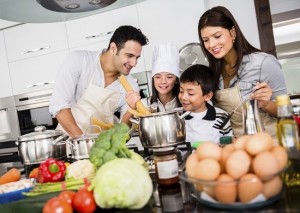 of a rotisserie chicken in preparation for lunch boxes. Chicken is easily thrown on a salad for a handy meal at home or at work or school.
Freeze the bones for creating a rich broth (See THE BONES HAVE IT).
Today, I prepared a crock pot full of Italian Meatballs—recipe follows. A family could incorporate these in any number of meals or snacks. I will simply freeze half of them for future use. Gluten-free spaghetti is off the menu for a while, so pairing these meatballs with at least half of a plate of veggies and some good fat will more than fill our tummies.
Tonight, our plates will sport leftover collards, raw broccoli salad, and avocado. Mmmmm. When's dinner?
Italian Meatballs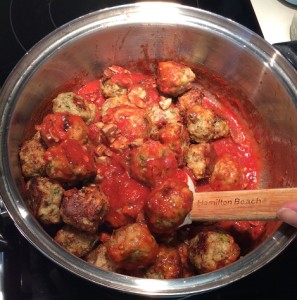 For the meatballs:
1(ish) pound of ground turkey
1 pound of sweet Italian ground sausage (I used Johnsonville brand because it's gluten-free and has the fewest ingredients)
¼ of a red onion minced and divided into 2 portions- one portion for meatballs, one portion for sauce
3 cloves of garlic, minced and divided into 2 portions- one portion for meatballs, one portion for sauce
2 eggs
2 tsp. Italian Seasoning (or to taste)
One handful of fresh parsley, chopped
1/3 cup grated Parmesan and Romano cheese
Few shakes of sea salt to taste
1/3 cup gluten-free Panko, Italian Style (I used Ian's brand)
For the sauce:
1 tbs. extra virgin olive oil
One portion of the minced onion
One portion of the minced garlic
1 can tomato paste (6 oz.)
2 tomato paste cans of water
1 tsp. gluten-free fish oil (for that "je ne sais pas" or umami effect)
Salt to taste
Pepper to taste
Italian seasoning to taste
1 cup chopped Crimini mushrooms a.k.a Baby Bella mushrooms
Method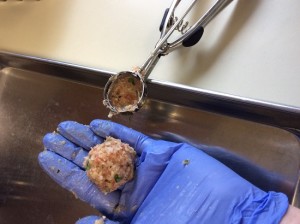 Put all meatball ingredients in a large bowl and mix well using gloved hands. Using a 1 ½ inch scoop, push a scoopful of meatball mixture into the side of the bowl to help pack it into shape. Eject the meatball into your other hand to gently finish and place the meatball on an ungreased baking sheet.
The 1.3 lbs. of turkey and 1 lb. of sausage yielded me just shy of 50 meatballs on two cooking sheets. Place cooking sheets into a preheated 350 degree oven or 325 degree convection oven. Roast meatball for 15 minutes, remove pans from oven, turn meatballs over, and return pans to oven for another 15 minutes.
While meatballs are baking, prepare sauce as follows: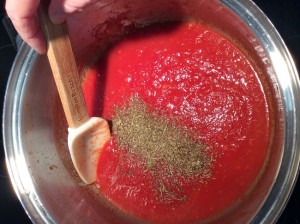 Gently sauté minced onion in a sauce pan on medium heat for a couple minutes, add minced garlic, and continue cooking for 30 more seconds.
Add tomato paste, 2 cans of water, fish oil, salt, pepper, Italian seasoning.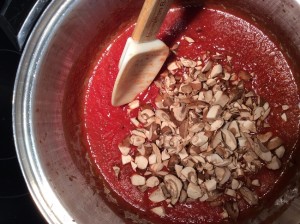 Stir to combine.
Add chopped mushrooms and let mixture simmer.
When meatballs are done roasting, put meatballs and sauce in crock pot, making sure all meatballs have been coated in sauce. Set crock pot on low for longer cooking or on medium or high heat if dinner is to be sooner.
Disclaimer: The information being discussed in these blogs is NOT intended to replace a relationship with a qualified health care professional. Foodtalk4you blogs endeavor to empower people through the exploration of publicly available resources of information about human anatomy and physiology, and how different foods affect the human body. Readers should seek the advice of their qualified health care providers with any questions about their medical conditions or health status before attempting any dietary, exercise, or lifestyle changes.