Espousing coping skills, and actually using them, are two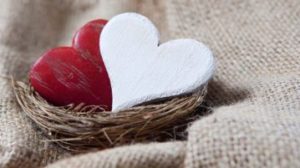 different things. As my beloved continues to slumber more than 15 hours a day now, it would be easy for me to just 'spin in place' as I watch his winding down. The three rounds of planks that energized me on Tuesday, are just not motivating me today. My yoga mat is not calling to me.
Today's coping skill is in shifting focus away from me and onto sharing something good with YOU my dear readers!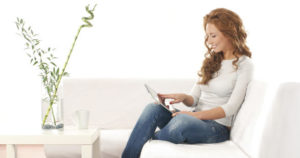 I have clipped out and saved so many nifty-sounding recipes for salad dressings; and yet have used virtually none of them. If you are like me, then I even hesitate to share a recipe. Rather, I am sharing a c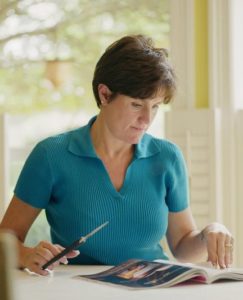 oncept instead.
Necessity being the mother of invention, an idea came to mind this week that answered several needs:
Something to moisturize some dry leftover baked chicken that was destined to be chopped up into a salad.
Something that would use at least a part of my over-abundant supply of mint. Note to self: plant less mint and more basil.
Something that would 'smile' at me from the salad bowl and lift my spirits.
Something that would use up this watermelon that I am the only one eating now.
Voila!

Watermelon Mint Salad Dressing
Remember, this is a concept, not a ¼-teaspoon-at-a-time recipe!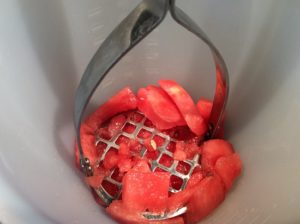 The first step is to smash-up some watermelon.
For my solo serving, I used half of an inch-slice of watermelon taken from one of those mini bowling ball-sized melons. An old fashioned potato masher does the job and leaves some small chunks.
Add some chopped up fresh mint leaves. I generally use the leaves from a 12-inch stem.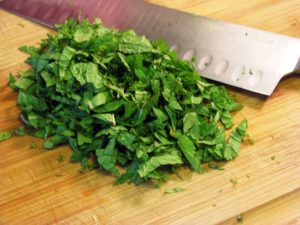 Salt
Pepper
Splash of EVOO (Extra Virgin Olive Oil)
Splash of white wine vinegar
That's it! Stir and pour over your salad!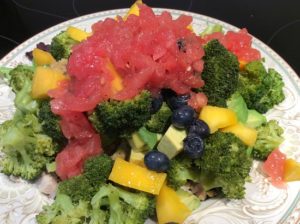 Having made this three times this week, my salad contents have varied with the addition of leftover sautéed okra, avocado, mango, blueberries, steamed broccoli, and of course that chicken.
Salads are a wonderful way to keep soaking up all of that fresh summertime vegetable goodness. Cooking pretty much for one now, I tend to cook more than I need for one meal.
Just convert most leftovers to salads in the summers!
This Watermelon-Mint Summer Salad Recipe concept has revitalized my flagging spirits and has given me fun nutritional meals.
We'll be needing this added aspect of cooling, as yet another heat wave is in progress!
Thanks for reading-
Deidre